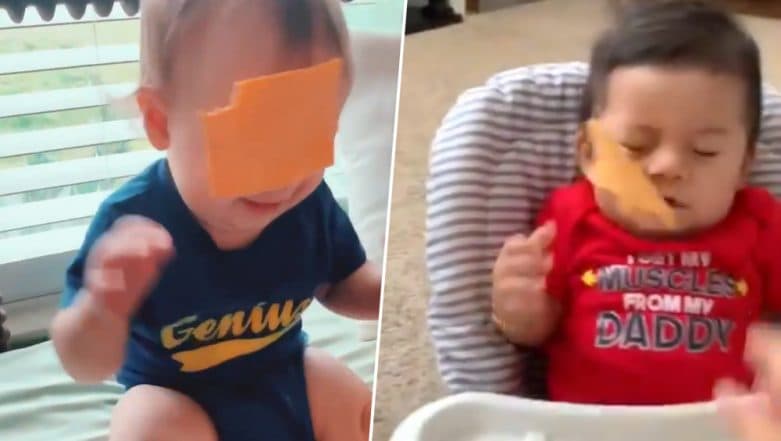 Social media trends are evolving, however, one thing doesn't change and that is the urge of becoming popular. People to extreme ends to gain likes and shares and comments and challenges are just a part of it. However, the cheesiest of the challenges so far literally has been this latest viral challenge, called the Cheesed Challenge. Also known as the cheesing challenge, this challenge sees parents making videos of them hurling cheese at their baby's faces. While some of these videos may look cute some of them are raising questions. Many are also calling it child cruelty. These videos have divided the internet, and some of these videos are also being hidden on Twitter by being labelled as "sensitive content." Fake Plane Challenge' Goes Viral on TikTok in China During Spring Festival (Watch Funny Videos.)
Most of the children seem to like the game or cheese as they can be seen laughing, giggling or smiling when a piece of cheese slice is thrown at their face. Some even end up eating the cheese. However some kids look shocked, sad in the videos, some even end up crying. Take a look at some of the popular videos uploaded online.
Thankfully he likes cheese pic.twitter.com/5cE4SrgaR3

— shelbyjane (@shelbslord) February 28, 2019
Here's another cheesing video
We gave this whole trending #cheesing thing a try. Pretty sure the baby liked it since she got to eat the cheese. 🤣 pic.twitter.com/ug3glPt2rb

— Rebecca Forand (@RebeccaForand) March 4, 2019
THIS
— Anjel Falcon Adsuara (@anjel_ine) February 28, 2019
Some kids didn't seem very happy being cheesed
We cheesing kids all 2019 pic.twitter.com/UtsAW3WdgO

— LemonPepperLex👨🏼‍🍳🥭 (@iamvalexi) March 1, 2019
Here's another one
— ørlandø (@Orlandonava1204) February 28, 2019
The challenge is all over Twitter and is garnering all sorts of criticism as some of the kids seem really uncomfortable with cheese being thrown over their faces. However, is it worth being called child cruelty? What say?