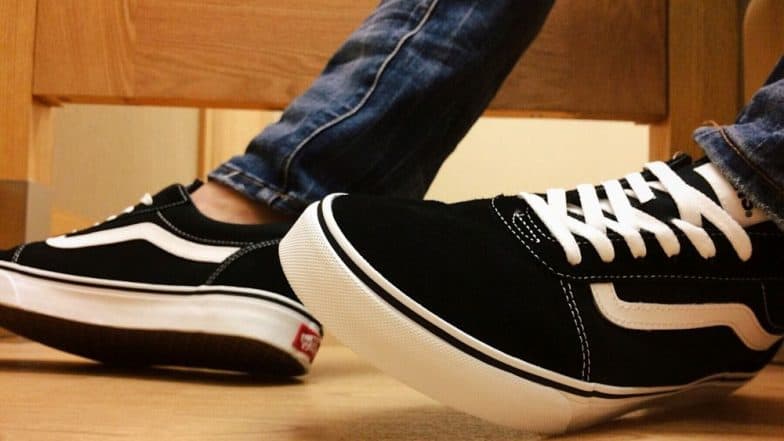 Social media trends and challenges seem to know no bounds. Every day you see something new trending on social media, sometimes they are too bizarre while sometimes too lame. In the latest strange viral trend, people are throwing their Vans sneakers in the air to see which way they land. Just when you though the viral bottle flipping challenge stopped, people are recording video of them throwing their Vans to see which way does it really land, which Twitter users claim always end up falling right up. If you are wondering are people doing so, it all started after Twitter. It all started when a Michigan-based Twitter user that goes by the handle name @Ibelievthehype posted a video that showed her throwing a pair of Vans sneakers into the air, and the shoes do land faced up right as they hit the floor. Cheesing Challenge Where Parents Throw Cheese Slices at Babies go Viral, But Twitter is Not Having It!
She captioned the video with: 'Did you know it doesn't matter how you throw your vans they will land facing up' Soon after the video was posted the tweet has garnered a lot of views and retweets. People began their own version of tests with their Vans. People began using the hashtag #VansChallenge and shared their own Vans video.
Take a look at the video:
Did you know it doesn't matter how you throw your vans they will land facing up pic.twitter.com/nKVJCncW4H

— lana m!sses tøp (@Ibelievthehype) March 2, 2019
Looks like it works
Decided to do that vans thing when you throw them and they always land up and I'm pretty shocked 😅 pic.twitter.com/kVQBAi1kxT

— Joana (@jo_villarreal16) March 4, 2019
People are learning...
I learned today that no matter how you throw your vans they always land right side up... pic.twitter.com/1um0UXpbxW

— Bryce🧼 (@BryceMckenney1) March 3, 2019
Surprise...surprise
WELL ILL BE DAMNED. 😂 this shit worked. pic.twitter.com/1UZa79hdKC

— Nissa! 🇪🇷 (@anxsso) March 4, 2019
People are scared...
this vans landing right side up shit scary true lmao thought it i caught it lacking until the end pic.twitter.com/P115SMarhR

— roman /// (@rxmsta) March 4, 2019
Let's see how long does this Vans challenge last. We still don't know if this is a sponsored challenge by Vans or not.