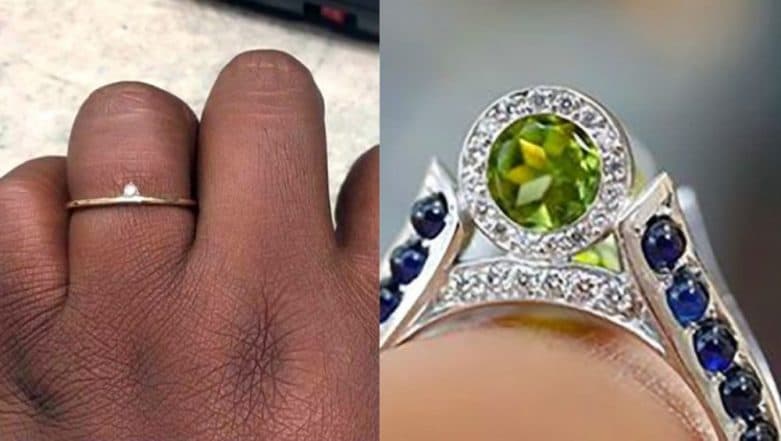 Gone are the days when engagement ceremonies were only about love and happiness, nowadays, it's much more than just cherishing the moment. The concept of 'Ring Shaming' has emerged as a social media trend as it receiving a little too much attention than it deserves. There are various Facebook groups solely meant for 'Ring Shaming' where people share pictures of their engagement rings only to be mocked by fellow members of the group. Many-a-times, to-be-brides who did not like their rings take to the group sharing pictures of the jewellery explaining why it is nothing like what they expected it to be. In one such incident that occurred recently, a bride-to-be slammed her fiance as he proposed to her with a 'tiny' engagement ring. Girlfriend Shows Off Her Engagement Ring Made of Fiancé's Hair, People Left Disgusted (View Pic)
The woman shared the picture of the ring in a Reddit post. The photo shows a small diamond on a delicate gold band of the ring. It was was quick to go viral on social media with various reactions pouring in. While some agreed with the to-be bride's thoughts, others made fun of the ring asking if it was for an ant. In the post she writes, "We been together for eight years and talking about getting married for almost three. This the ring he said he saved up to buy me. Am I being shady or materialistic if I tell this mf I don't want this little a** ring? [sic]." As incidents of ring shaming are rising on social media, we have compiled a list of such cases that went viral on the internet. Woman Considers Break-Up After Finding out Her Engagement Ring is Fake. 
Ring Compared to Tweezers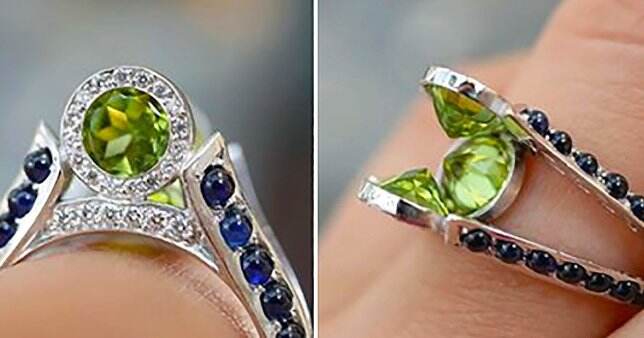 Earlier this month, a bride-to-be's engagement ring was compared to a
"pair of tweezers." Photos of the ring which were shared on Facebook group That's It, I'm Ring Shaming shows a ring featuring an emerald green jewel centrepiece with two green stones on the sides. It has an array of diamonds and blue stones on the band. While some compared it to a "jewel-encrusted       speculum," others said it looked like a "taser gun." Groom Roasted for Dirty Nails! Viral Facebook Page Share Couple's Wedding Day Pic and the Internet Is Disgusted.
Ring Compared to Vagina
A bride-to-be's unusual engagement ring got compared to vagina! Unlike traditional engagement rings, this one has twisted gold metal design without a jewel. However, people pointed out that the design made it look like a woman's private parts. Members of That's It, I'm Ring Shaming, mocked at the ring, with some even calling it a "noodle." One of the comments described it as: "A linguine noodle cast in some cheap metal."
Hair Tie as Temporary Engagement Ring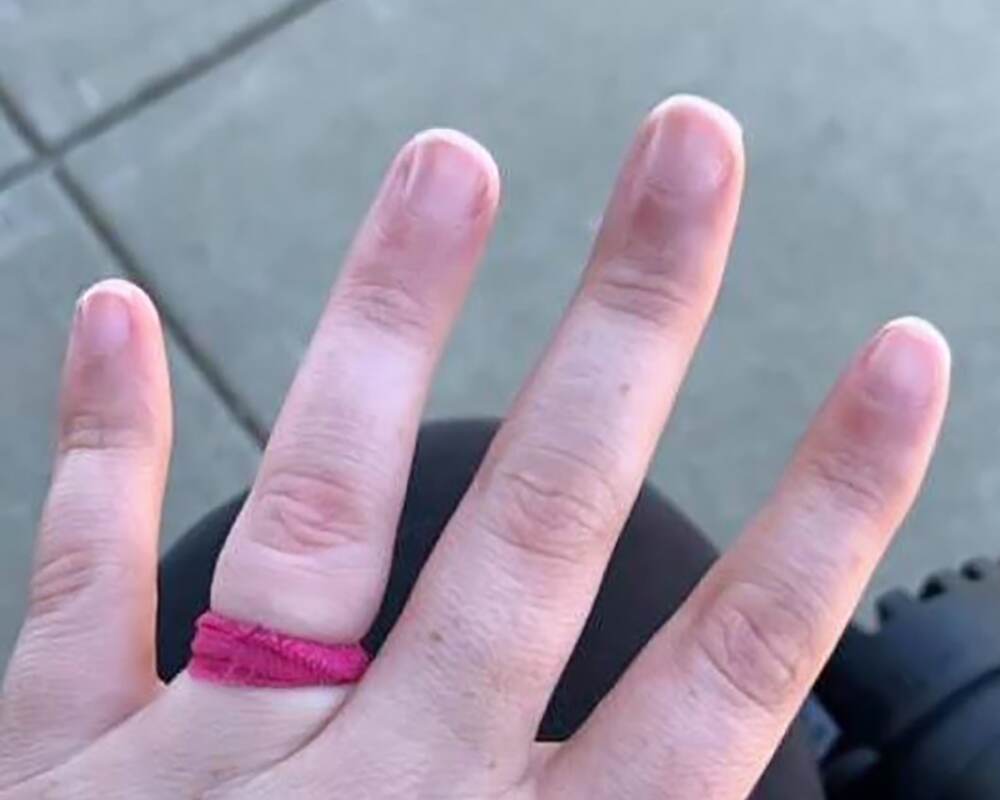 Facebook group That's It I'm Ring Shaming cruelly slammed a woman who wore a hair tie as a temporary engagement ring. After she posted pictures of the ring in the group, people compared it to a 'tourniquet."
While others said that putting a hair tie around the finger so tightly is not safe. However, the woman explained that she had chosen to wear the elastic band because her real rock was banned at work. Bride-to-Be Reveals Her Fiancé Sold Their House to Afford 'Purple Diamond' Engagement Ring, Netizens Troll Her.
Trolled For Wearing Two Rings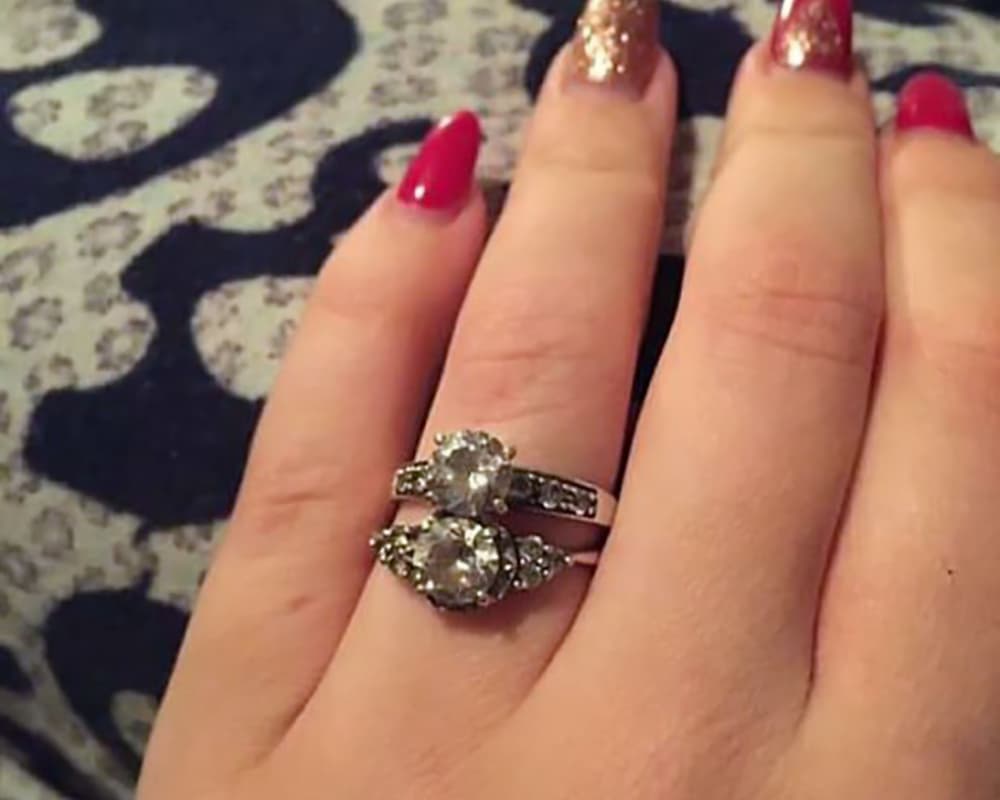 A bride-to-be was spoilt for choice when her husband bought her three engagement rings from the United States. Not sure which one to choose from, she wore two of the rings on the same finger and shared pictures on the group. The post received so many nasty comments that the woman deleted it. One of the comments read, "If you're going to wear two engagement rings, at least make them both decent?" While another wrote, "This seems I have money because I have two engagement rings."
The Facebook post often shares various bizarre engagement stories only to be brutally trolled (Obviously, why else would they have that group) by the members. Recently, one of them shared a photo of how a farmer proposed to his girlfriend by keeping the ring on the cow's udder. People called the engagement idea a terrible one and said the man should not have troubled the animal. The group continues to post such pictures of engagement stories only to blatantly trolled by others.