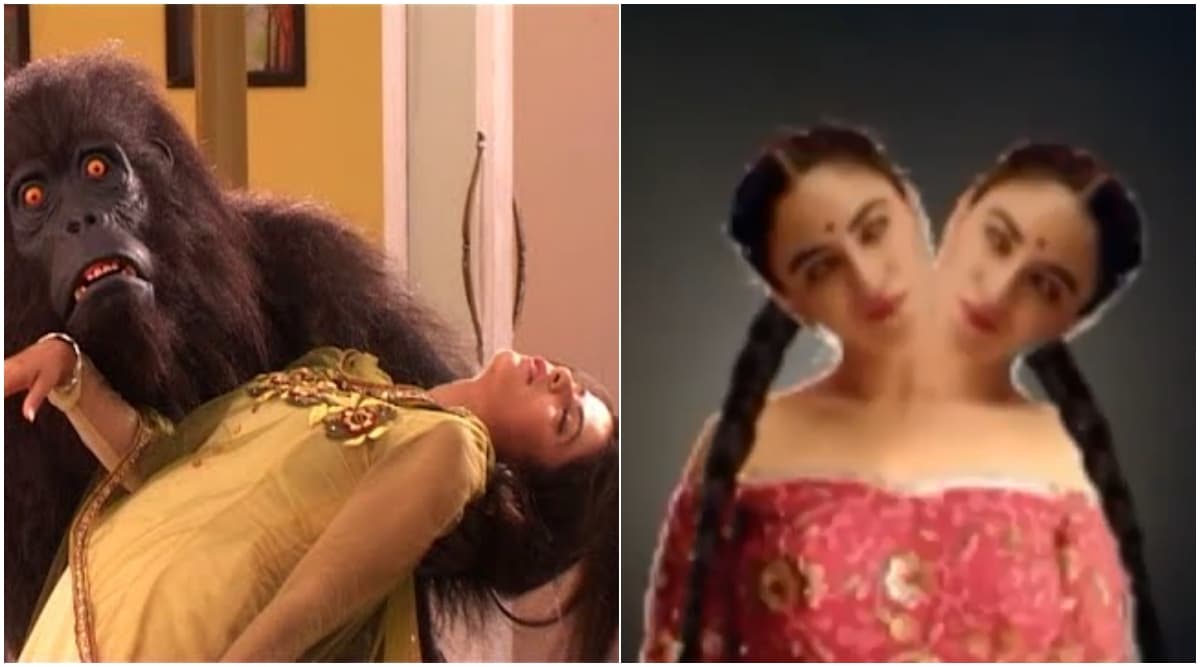 Today most of you may be relying on over-the-top (OTT) content for entertainment. Video streaming apps makes it easier to watch web series based on your interests and choice. But before we all got hooked onto our smartphones, we relied on television sets for entertainment. Watching TV was thus a favourite time pass for most of us as we grew up. And television thus served as a major source of information and entertainment. So United Nations observes a World Television Day annually on November 21 to highlight the role of the medium in presenting different issues to people. From a broad topic, we look at some of the Indian TV soaps on this day. Unfortunately, nowadays the TV soaps and content is not that great, thanks to the range of ideas going too far from reality. On World Television Day 2019, we look at some of the most ridiculous TV scenes that were part of Indian soap operas. These scenes will make you want to shut down your TV sets. Dipika Kakar & Karan v Grover's Hospital Spoof Scene From KHKT Reminds Us of Other Cringeworthy Yet Funny Videos From Indian TV Soaps.
For a long period of time, Hindi TV soaps were dominated by what we called the K serials. These serials go on for years and years, from birth into death and then following into the grind of reincarnation. Over the years, makers have also explored the supernatural genre. But the results are far from pleasing. While we have so many documentaries and short-form content, seasonal episodes and web series coming up, these TV shows look redundant. You may or may not be watching or following these TV serials up to date but then there are scenes which will make you think twice about channel flipping too! Ekta Kapoor Is Miffed With the Indian Audience For Liking Game Of Thrones And Mocking Naagin!
Most Ridiculous TV Soap Scenes
Gorilla's Love Story in Thapki Pyaar Ki!
Thought a love story between a man and a woman is too done? Let's go back to our roots by getting a gorilla in, thought the makers of popular TV serial Thapki Pyaar Ki. So there was a gorilla falling in love with the leading lady Jigyasa Singh. Even the wildlife channels haven't succeeded in filming such intense of gorillas before.
Two-Headed Witch in Nazar
Look at that transformation! A paranormal romance drama would ask for its bits of bizarre things but then there are the over the top VFX effects which make things so unbelievable.
Naagin Comes to Life
We hope the above video conveys to you what goes on this show Naagin, which by the way, has got more than one seasons. And currently, the fourth season of the show is on air. We are sure the people who are watching and continuing this content are clearly looking for cheap thrills of entertainment.
The Great Fall of Komolika in Kasauti Zindagi Ki 2
The end of a character has to be an iconic scene, even if it means the character would jump off to their own death. Like they would comfortably wear heels and trip so bad, that the audience would trip more by laughing than actually feeling bad. But well, which character has died to never return. So the iconic Komolika returned to, only as a different person altogether.
The list could go on and on as almost every TV serial that's being aired today eventually goes into the ridiculous pattern with too much of effects and non-linear plot. So at least, in that way, television is not working as a very effective medium for us.