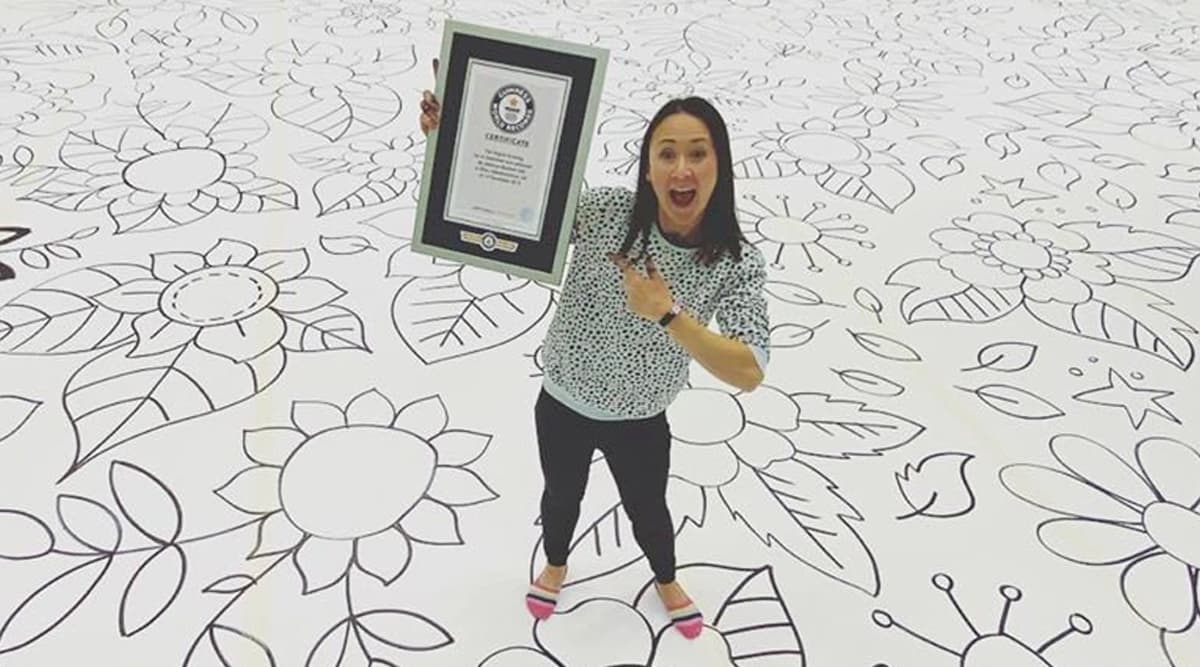 Did you ever imagine creating an artwork, measuring 4,520 square feet in less than 12 hours is possible? Johanna Basford thought so and even created a magnificent one which allowed her art to get into Guinness Book of World Record. Aman Singh Gulati held the previous record. Drawing reportedly from 9:00 am to 9:00 on using pencils, marker pens, to create a mammoth floral artwork was not easy. But it was worth taking the challenge, and everyone seem to love it. The beautiful pictures and videos capturing Aberdeenshire based Johanna's memorable moment has surfaced online with people lauding her creativity and great effort. Richard Browning Makes Guinness World Record for Achieving the Fastest Speed in Body-Controlled Jet Engine Powered Suit; Watch Other Videos of the Real-Life Iron Man. 
Johanna pioneered the adult colouring book trend, and now she added another feather on her cap as she made the giant drawing ever created by an individual. She reportedly performed her work at her former school, Ellon Academy and spent 12 hours in creating the enormous floral image on rolls of paper, placed on the floor. It has always been Johanna's childhood passion for nature that has led her to success. The 36-year-old artist published her first colouring book, Secret Garden, reportedly in 2013 and has been at the forefront ever since. Guinness World Record of Tallest Tower of Cupcakes Created in Chennai. 
Johanna described the aim as "nerve-wracking." She was quoted in a BBC report, "I want to encourage people to put their phones down and pick their pencils up. Art is a wonderful way to recharge and relax, something we all need to do more of."
Way to Go Girl!
Go Johanna, go! Artist and bestselling author of HOW TO DRAW INKY WONDERLANDS @johannabasford is attempting to break the Guinness Record for the World's Largest Drawing✏️🌸 #InkyWorldRecord pic.twitter.com/liSLXIqTTw

— Penguin Books (@PenguinBooks) November 18, 2019
Watch Video of Johanna Creating the Artwork:
.@johannabasford has broken the Guinness World Record for the largest drawing created by an individual.

The Aberdeenshire artist created the 500 sq m floral design in a 12 hour drawing marathon at her former school in Ellon. pic.twitter.com/8lh8sXX497

— STV News (@STVNews) November 19, 2019
And She Did It!
SHE DID IT! @johannabasford broke the world record for largest drawing by an individual🥇Her mission was to encourage people not to be intimidated by drawing- so pick up a pencil, and a copy of #HowtoDrawInkyWonderlands for guidance, and this could be you! pic.twitter.com/hoRk4LSXiS

— ed public relations (@ed_pr) November 19, 2019
The same report also noted a Guinness World Record judge who was in attendance to measure and verify the attempt. The previous record which was held by Aman Singh Gulati, was a 410 square-metre measured drawing. But Johanna surpassed his effort under the watchful eye of the Guinness judges. The sketch is amazing and beautifully illustrated that shows Johanna's passion and love for nature.