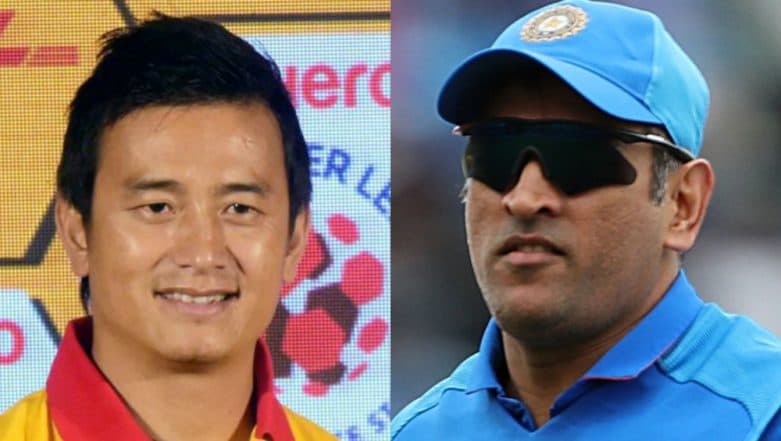 Former Indian football team player Bhaichung Bhutia has advised MS Dhoni to give up using Army insignia 'Balidaan Badge' on his wicket-keeping gloves. Bhutia, one of the best footballer India has produced, believes that a player should go by the rules and regulations and if sporting Army insignia is against it, then the former captain should remove it. MS Dhoni Prohibited from Using Army Insignia on Gloves During Cricket World Cup 2019 by ICC.
"A player should go by the rules and regulations. If it's against that, then Dhoni will have to remove it. Respect the sport first keeping aside everything else," Bhutia told CNN-News18.
During India's match against South Africa in the ICC Cricket World Cup 2019 (CWC 2019) Dhoni's wicket-keeping gloves sported the 'Balidaan Badge'. Following the match, ICC requested the Board of Control for Cricket in India (BCCI) to direct Dhoni to remove the insignia. MS Dhoni in England for Cricket, Not Mahabharata, Says Pakistan Minister Over Army Insignia on Indian Wicket-Keeper's Gloves.
However, BCCI's Committee of Administrators (CoA) in-return requested ICC to allow Dhoni to have the logo on his gloves. ICC, meanwhile, has responded to Indian cricket board's request and in a statement issued the cricket's governing body said, "the regulations for ICC events do not permit any individual message or logo to be displayed on any items of clothing or equipment." Pakistan Players Wanted Retaliatory Celebration Against India, PCB Says No.
After ICC's disapproval, some of the cricket fans in India felt the decision was harsh. Fans took to Twitter and expressed their displeasure. Some even felt that India should boycott the ongoing Cricket World Cup. India's now take on Australia on June 09 and it will be interesting to see whether Dhoni sports the 'Balidaan Badge' or not.