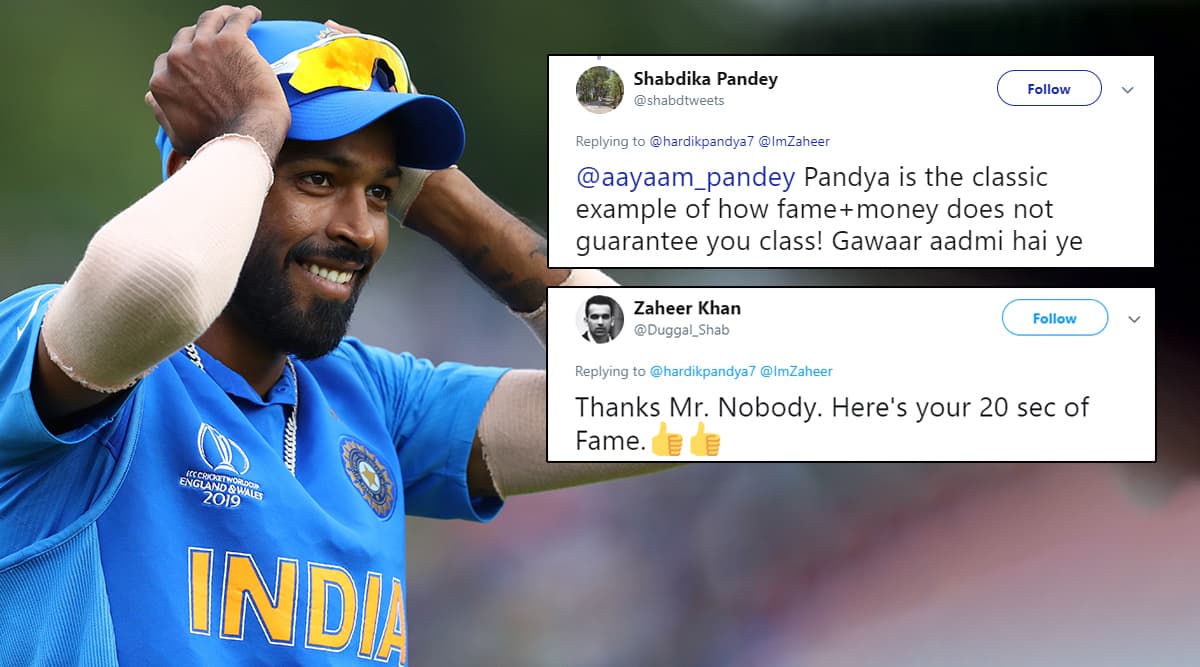 Hardik Pandya just can't stay away from the limelight. The Indian all-rounder, who has been sidelined from the Indian cricket team after undergoing back surgery, once again found himself at the wrong end of things after his cheeky birthday wish for Zaheer Khan ended up angering netizens. Pandya was brutally trolled by cricket fans on social media for trying to hog the limelight and for what many thought was a "disrespectful" message for a senior pro like Zaheer. Many from the cricket fraternity wished the World Cup-winning fast bowler but Hardik had to pay the price of trying to be cheeky. Happy Birthday Zaheer Khan: 5 Match-Defining Spells by the Former Indian Speedster.
"Happy birthday Zak ... Hope you smash it out of the park like I did here," said Pandya in his wish for his former Mumbai Indian teammate. The 25-year-old added a short video clip to his post in which Pandya can be seen smashing Zaheer out of the park in an Indian domestic game. What Pandya probably meant in his wish was that Zaheer should continue to live his life like a boss. But fans found it rude on Hardik's part to upload a video in which he is seen battering Zaheer. Netizens Slam Hardik Pandya, Says 'Arrogance Will Ruin You Brother'.
Hardik Pandya's Cheeky Wish for Zaheer Khan
Happy birthday Zak ... Hope you smash it out of the park like I did here 🤪😂❤️❤️ @ImZaheer pic.twitter.com/XghW5UHlBy

— hardik pandya (@hardikpandya7) October 7, 2019
Zaheer Khan also hit back the all-rounder with a similar witty message. "My batting skills can never be as good as yours but the birthday was as good as the next delivery you faced from me in this match," said the Indian great.
Zaheer Khan Replies
Hahahaha....thank you for the wishes @hardikpandya7 my batting skills can never be as good as yours but the birthday was as good as the next delivery you faced from me in this match 😉 https://t.co/anhQdrUBN7

— zaheer khan (@ImZaheer) October 8, 2019
Zaheer Khan is an all-time bowling legend. The former Indian pacer celebrated his 41st birthday on October 7, 2019 (Monday). Khan bid adieu to international cricket in 2014 after taking over 650 international wickets and representing the country 300-plus games, which covered three Cricket World Cups. Zaheer finished the victorious 2011 World Cup with 22 wickets and was termed the next Sachin Tendulkar by his captain MS Dhoni. Fans found Hardik's pompous birthday wish for such an illustrious player "disrespectful."
Things are never as You Expect It to Be
Just like you did 'Aaj main karke aaya' 🤪😂 pic.twitter.com/w0AS86vQBe

— Desi Bhai Einstein | Desh Bhakt 🇮🇳 (@DesiPoliticks) October 7, 2019
A Classic Example of Why Money Can't Buy Class
@aayaam_pandey Pandya is the classic example of how fame+money does not guarantee you class! Gawaar aadmi hai ye

— Shabdika Pandey (@shabdtweets) October 8, 2019
20 Seconds of Fame!!
Thanks Mr. Nobody. Here's your 20 sec of Fame.👍👍

— Zaheer Khan (@Duggal_Shab) October 7, 2019
Not Even 5 Percent
#ZaheerKhan is one of the greatest bowler of Indian cricket, you're not even 5% of what he was.

Tum BC Cross seam se bowl daloge, ya phir bouncer marenge... Usey zada kuch nahi. Aur phir bologe Main karke aaaya.. 😑

— Raj Devan (@rgis1369) October 8, 2019
Such Poor Taste
Such a poor taste...Hardik...you may be good at cricket...but every time you fail to be a good sportsperson...learn from others...as there are not many cricket years left ..post that you need learn to live normal life..

— Bhanu Shyam Nakka (@bhanushyam) October 8, 2019
They Forgot to Fix the Brains!!
@klrahul11 expecting too much pic.twitter.com/ofDzKqb8o2

— 𝕯𝖎𝖕𝖆𝖓𝖘𝖍𝖚 𝕽𝖆𝖙𝖍𝖔𝖗𝖊 (@DipanshuR07) October 7, 2019
Learn to Stay Humble
Ahankaar tujhe le dobega mere bhai pandya...stay humble not foolish

— Desi Woke (@desilazi) October 7, 2019
Disrespectful
That's very disrespectful...

— Dilshaad (@ImDilshaad) October 7, 2019
Meanwhile, many from the cricket fraternity, including former teammates VVS Laxman and Shikhar Dhawan, sent their greetings for the former Indian international on his special day. "Happy Birthday @ImZaheer. Wishing you a wonderful day and the most amazing year Zak," tweeted Laxman. While Dhawan said, "Happy birthday Zak Bhai! Have a fabulous year ahead with loads of happiness and good luck."
Zaheer made his debut for India against Kenya at Nairobi in October 2000. He went to represent the nation in 92 Test matches and 200 ODIs before hanging up his boots.