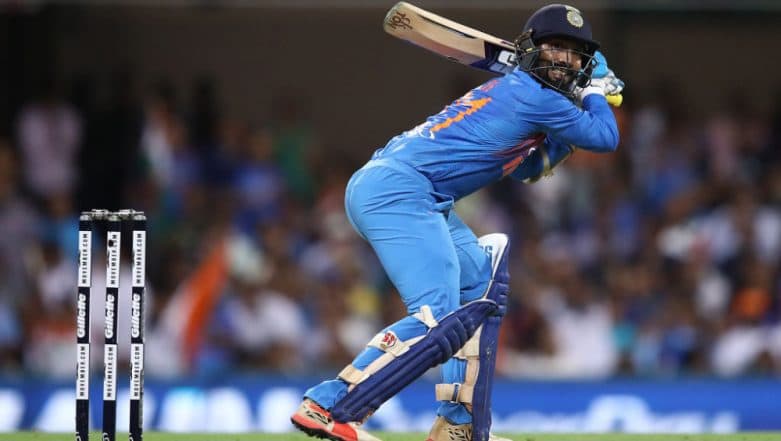 In a tournament like ICC Cricket World Cup 2019, it is pertinent for a team to have backups ready. Teams often pick three openers, two wicket-keepers and an extra seamer and spinner when participating in a big tournament. India is no different and the squad for the upcoming World Cup will apparently feature the core players and then the backup players. MS Dhoni & Virat Kohli Chemistry a Boon for Indian Cricket Team: Mahi Will Be Indian Skipper's Go-To Man at ICC Cricket World Cup, 2019.
There has been a lot of debate for some time now with MS Dhoni, Rishabh Pant and Dinesh Karthik all three being part of the playing XI (in T20Is). All three are specialist wicketkeepers and have the required skills to be in the team as middle-order batsmen. India is currently locked in a five-match ODI series against Australia and have left out Dinesh Karthik and included Rishabh Pant in the squad.
Some feel it is the end of the road for Karthik as far as World Cup selection is concerned. But the right-hander fits in India's squad more than the young Pant. Let's not talk about wicketkeeping skills. Purely in a role as a finisher, Karthik is a reasonable choice. While MS Dhoni and Kedar Jadhav look set to perform the finishing duties at number five and six respectively. India Squad for ICC Cricket World Cup 2019: No Place for Rishabh Pant, Dinesh Karthik in Gautam Gambhir's Predicted Team.
Karthik is a decent choice as a backup finisher in case Jadhav or Dhoni face an injury in a long tournament like the World Cup. Pant no doubt is an exciting batsman with loads of talent but a calm head like Karthik suits India's requirement with top four in form of Rohit Sharma, Shikhar Dhawan, Virat Kohli, and Ambati Rayudu settled.
Karthik's ability to adapt to situations is something that works in his favour. The 33-year-old has decent defensive skills and can accelerate with ease as well. Karthik can also play second fiddle to Hardik Pandya down the order with latter being the aggressor.
So, it is important for selectors to stick to experience in the World Cup squad and opt for Karthik. They can for sure afford to leave out 21-year-old Pant.