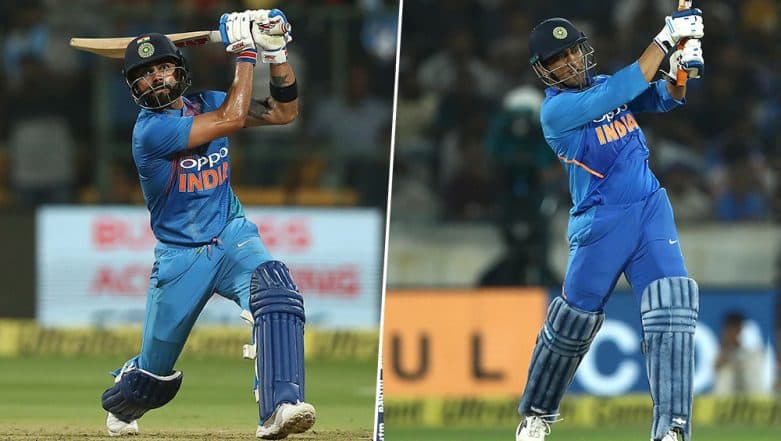 The current Indian skipper, Virat Kohli is known for his aggressive approach and different style of leadership. On the other hand, the former Indian skipper was titled as 'Captain Cool' and usually adopted a steady and calm method in getting Indian team majority of victory. A lot of people predicted, that things on the field might not go well with Kohli and Dhoni, due to their different style of handling situation. However, fortunately for the Indian cricket team, the chemistry between Kohli and Virat is going along well, which is good news for the team management and Indian fans as we head closer to ICC Cricket World Cup, 2019. For Indian Skipper Kohli, it's 'my way' and 'the Mahi way.'  Ind vs Aus 2019: MS Dhoni Joins the Elite List of Indian Batsmen After His Match-Winning Knock at 1st ODI.
Kohli now seems to adopt the theory of my way and Mahi way. This can be majorly said because the Indian captain has now entrusted MSD with the task of taking the Indian team beyond the line at crucial stages. MS Dhoni has done it many times for India with his bat in recent times and even in the past. One could never forget his great inning at Wankhede Stadium in ICC Cricket World Cup 2011 final, where he played a big hand in bringing the World Cup to India for the second time. Even recently, Dhoni played a sensible knock in the deciding final ODI against Australia at Melbourne a month back and also led India to victory this past Saturday at Hyderabad. Remove Virat Kohli As Captain, Hand MS Dhoni the Responsibility for ICC Cricket World Cup 2019; Says Ajay Jadeja.
Nowadays we usually see the captain of the team fielding within 30-yard circle, so that they can continuously approach the bowlers and discuss the plan with them. However, Kohli, due to his excellent arm and agility is sometimes seen fielding deep near the boundary line. That time we see MSD directing the bowlers, and we also see Mahi managing the field in first 25 overs.
We also know that Kohli is an emotional man and calmness of Dhoni is required to make him cool down and thereby does not allow him to press the panic button. Now this chemistry between Kohli and Dhoni along with MSD current batting form has made clear that Mahi will be the Indian skipper go-to man in the coming ICC Cricket World Cup 2019. We as Indian fan will only hope that the duo goes along well to bring World Cup to India for the third time.