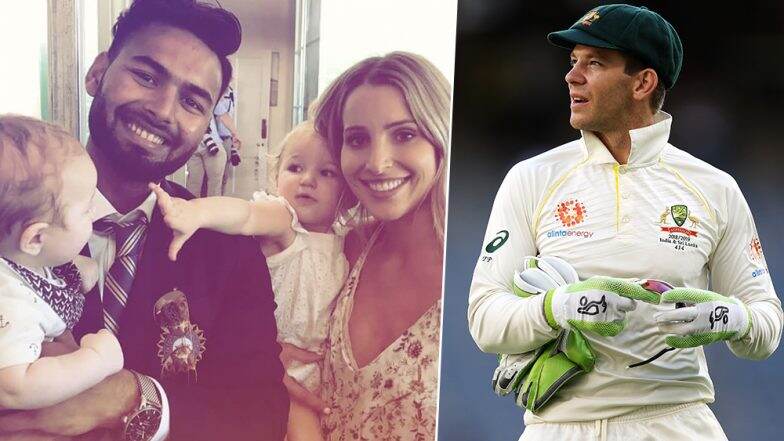 After from being in the news for his batting, Rishabh Pant in Australia also bagged the title of a babysitter. It was the Australian captain Tim Paine who gave him the title while taking a jibe at him for being dropped from the ODI series in Australia. The wicket-keeper batsman has been named as the Emerging Player of the Year and the International Cricket Council announced the award with this unique babysitter sketch. Amul's Latest Ad Shows Rishabh Pant As Tim Paine's Babysitter: Watch Hilarious Pic!
The sketch had Rishabh Pant lapping up Tim Paine's babies with the Australian captain and his wife sitting beside the Indian wicket keeper. The picture's caption also drew attention of the netizens which read, "Champion babysitter and champion cricketer. Rishabh Pant is the ICC Men's Emerging Cricketer of the Year 2018!" 'Babysitter' Rishabh Pant Trolls Rohit Sharma Taking a Friendly Jibe at Yuzvendra Chahal: Read Funny Conversation.
The Australian captain and Rishabh Pant were constantly engaged in a funny banter. On one of the occasions, Paine said, "Big MS [Dhoni] is back in the one-day squad too, we might get him [Pant] down to the Hurricanes... we need a batter. Fancy that, Pantsy? Extend your little Aussie holiday. Beautiful town Hobart too. I'll get you a nice apartment on the waterfront. [I'll] have him over for dinner. Can you babysit? I'll take the wife to the movies one night and you'll look after the kids?"
A few days later, Paine's wife Bonnie asked Pant if he could help her out with babysitting. Rohit Sharma also joined the bandwagon and asked him to babysit his newborn daughter Samaira, to which Pant immediately agreed.