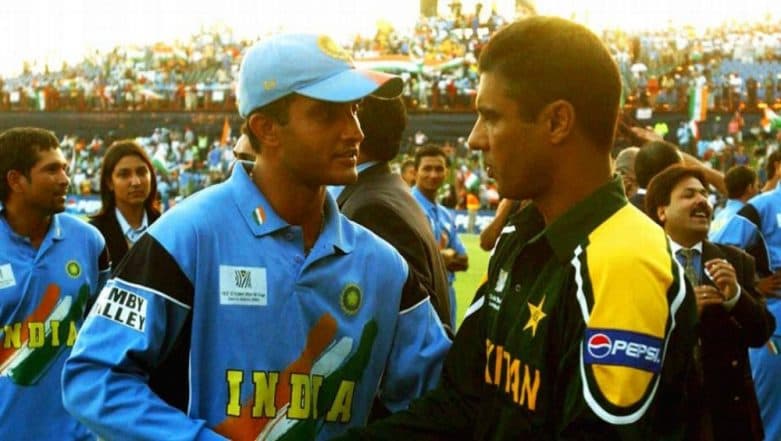 India vs Pakistan matches has always had a special place in the archives of our memories. But World Cup games between both the teams are high-voltage ones. Stress and anxiety engulf the fans on both sides. India upholds the record of never losing to Pakistan in the World Cup games. Even the fans present in the stadium relish every minute of the game and the matches turn out to be no less than a cricketing bonanza. While checking out several World Cup videos online, we stumbled upon a clip of 2003 when Waqar Younis was booed by the fans in the Centurion after India chased a formidable score of 273 runs. Let's have a quick look at the match before watching the video of the presentation ceremony. ICC Cricket World Cup 2019 Schedule in PDF: Ticket Prices, Dates, Venue Details & Timetable Available for Download Online.
It was the 36th game between India and Pakistan at the Centurion, South Africa. Waqar Younis, who handled the reins of the Pakistani team, went on to win the toss and elected to bat first. Saeed Anwar was in the third gear right from the first ball and looked determined to give a good start to the team. India snapped the first wicket in form of Taufeeq Umar hen Zaheer Khan gave a got the first wicket for the team. Abdul Razzaq, Inzamam-Ul-Haq were the next ones to make way to the pavilion and the scoreboard read 171/4. Opener Saeed Anwar and Mohammed Yusuf built a partnership of 73 runs. Rashid Latif and Younis Khan gave a little relief to the team as they jointly contributed 48 runs. Pakistan thereby posted a total of 273 runs.
Check the video Highlights of the game below:
Little did the Pakistani players know that Sachin Tendulkar, would teach a lesson that they would never forget. Sachin Tendulkar was blazing guns from the first ball and showed the opponents that the team was in no mood to lose. But very soon, the Sultan of Multan Virender Sehwag made way to the pavilion. Indian skipper Sourav Ganguly followed him to the pavilion on 0. Mohammed Kaif and Sachin Tendulkar jointly contributed with 102 runs, but soon the middle order batsman got bowled by SHaid Afridi. It was Yuvraj Singh and Rahul Dravid who took to team to the finishing line and chased the total like a boss. India not only won the game by six wickets but also reached the total by four overs and a couple of balls to spare.
Video of the presentation ceremony below:
The presentation was obviously quite a disappointing one for the Pakistani team as they lost the game and the Indian fans went on to boo Waqar Younis during the presentation ceremony. The Pakistani captain went on to criticise the bowling line up of their team. On the other hand, Sourav Ganguly was extremely delighted with the way India had played.