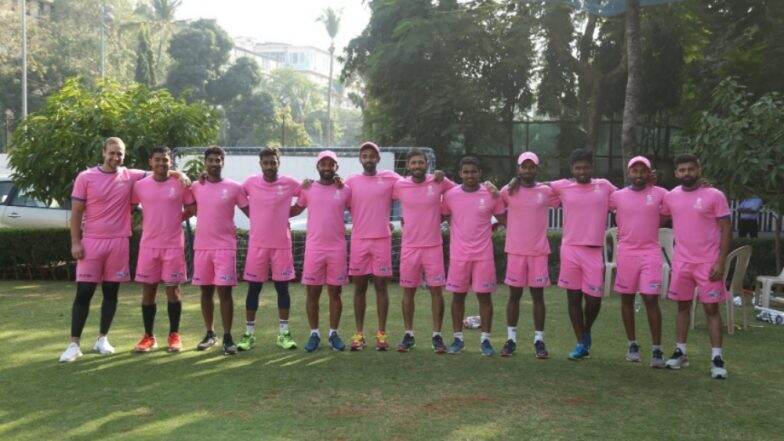 Ahead of the IPL 2019, the Rajasthan Royals have made a big announcement today. The team is all set to wear pink jersey for the upcoming edition of the Indian Premier League. The colour pink has a deep connection to Rajasthan. Jaipur is known as the pink city, Jodhpur is famous for pink sandstone and Udaipur produces pink marble. Therefore the franchise chose pink as the official colour of the team. According to the franchise, the colour will also help the fans get connected to the team. RR Team in IPL 2019: List of Rajasthan Royals Players for Indian Premier League 12 After Auction.
Manoj Badle, lead owner of the team said, "We are extremely happy to announce our official colour as 'PINK'. This is an exciting change for us and marks a strategic move in the direction of what we are trying to build our brand into – a fan-driven team that finds ways to win from anywhere."
The announcement of the same on social media as well. Check out the tweet below:
Meet the Pink Diamonds of Cricket! Meet the new Rajasthan Royals. 💗#HallaBol pic.twitter.com/3rGPOl7gM5

— Rajasthan Royals (@rajasthanroyals) February 10, 2019
Here's how Jaydev Unadkat welcomed the decision.
Hey Royals, Pink is our new black! Khamma Ghani Rajasthan 💖 #DareToWearPink #GulaabiBaalamPadharoMaareDesh@rajasthanroyals pic.twitter.com/vdRsfYknQQ

— Jaydev Unadkat (@JUnadkat) February 10, 2019
Here's what Shane Warne had to say about the new colour.
More pink for the @rajasthanroyals ! #pinkcity #daretowearpink @ Four Seasons Hotel Mumbai https://t.co/xfA52Wx8v9

— Shane Warne (@ShaneWarne) February 11, 2019
The jersey was launched yesterday in Mumbai. Check out a few snaps from the event.
With the legend !!!#daretowearpink #HallaBol #rajasthanroyals #shanewarne #IPL2019 @rajasthanroyals @ShaneWarne #cricket pic.twitter.com/4RIXPwW9Kf

— Globejamun (@Globejamun1) February 10, 2019
Here's another one.
The #GreatestSpinnerEver @shanewarne23 ? #loved watching this guy in action 😘#GreatestBowlerEver ? #Aussie #ozzie #cricket #cricketer #ipl #ipl2019 #rajasthanroyals #mumbaiindians #legend #bowler #spinbowler #spinbowling #greatest #legspin #shanewarne #warney #oz #australia pic.twitter.com/aLZ3GbvyVD

— BRINDA PAREKH (@BRINDAPAREKH) February 10, 2019
A few members of the team pose for a picture in the new jersey.
#RajasthanRoyals goes PINK!!!

The First Royal - @ShaneWarne returns as the Royal Brand Ambassador!@rajasthanroyals@IndianSportFan pic.twitter.com/1NH9UEIspY

— AISHVARYA JAIN (@aishvaryjain) February 10, 2019
Rajasthan Royals lead owner Manoj Badale added, "This is an exciting change for us and comes as a response to the fantastic reaction from the fans to our training kit and Cancer Out jersey last year, as well as of course Jaipur being the Pink city." Meanwhile, Shane Warne returns to the team for the IPL 12 as well. But this time will don the hat of a brand ambassador and will not be involved in the cricketing matter in depth like IPL 11.