Jofra Archer can't be wrong. The World Cup-winning England bowler has left everyone shocked with his perfect prophetic skills regarding most things that have transpired in the cricketing world in recent times. But it seems that Archer's prophetic skills are not just limited to the cricket field. The fast bowler's recent tweet on 370 went viral as soon as the BJP-led central government proposed to scrap article 370, which provided special status to Jammu & Kashmir. But it turns out that the post by Archer was actually morphed and came from a fake account. Jofra Archer Predicted Matthew Wade to Bowl During Ashes 2019? Prophetic English Bowler's Another Old Tweet Leaves Fans Wondering.
Archer's prophecy has been making the headlines ever since the fast bowler's tweets in the past found an uncanny resemblance to England's ICC Cricket World Cup (CWC) 2019 triumph. Many incidents that occurred during CWC 2019 was rightly predicted by Archer years before it had actually happened. But although those tweets were correct and predicted to an absolute point, Archer's tweet on article 370 is morphed and comes from a fake account. Prophetic Jofra Archer Knew About Prithvi Shaw Doping Ban? See this Old Tweet from English Pacer and Decide.
Jofra Archer Tweets:
He Knew everything @JofraTheOctupus

Modern day Astrologer 😁 #Article370 #JammuAndKashmir pic.twitter.com/egNbFKXJwm

— சக மனிதன் (@commonmantalks) August 5, 2019
There Has to Be a Jofra Archer Tweet For Everything
There has to be a Jofra Archer tweet for everything. Legend pic.twitter.com/q6xI1phG0L

— Masakadzas (@masakadzas) August 5, 2019
The above tweets show Archer making another correct prophecy. This time it was outside the cricket field. Netizens were full of praise for the fast bowler after finding a link to between Archer's post from 2014 and article 370. But close scrutiny shows things otherwise. The post from Archer regarding article 370 appears to be morphed.
Take a Close Look At This: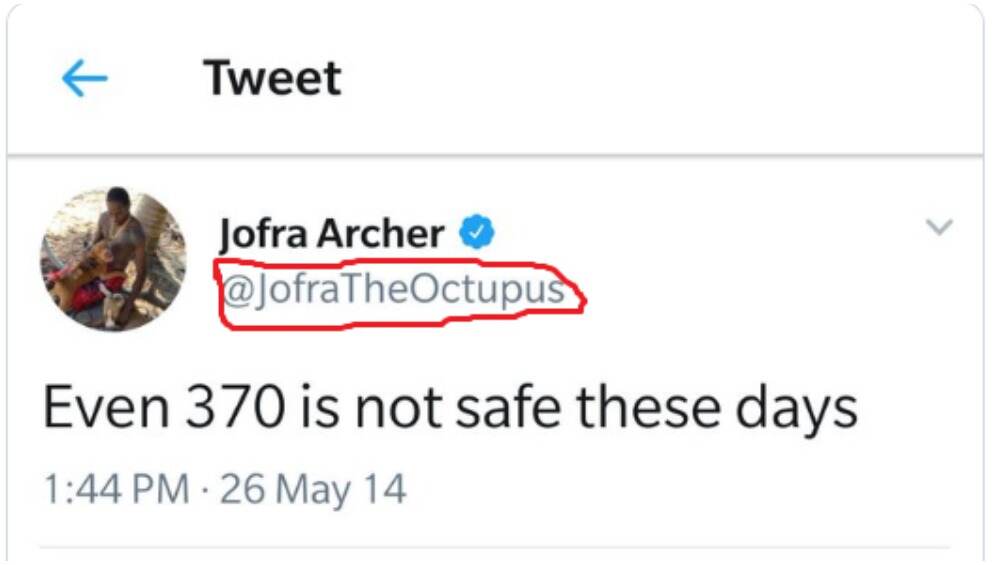 A close shows that although the tweet was made from an account named Jofra Archer, the twitter ID appears to be fake or different. England International cricketer Jofra Archer's twitter ID is named exactly as his name, while the morphed post is named under the ID "@jofraTheOctopus." The profile picture of the account appears to be exactly the same as Archer's original account but the twitter ID is different.
The fake twitter account creator foxed others through his username and profile picture but couldn't keep the same twitter ID as doesn't allow duplicate IDs. It also appears that perhaps the post was not from any account but appears to have been morphed with Archer's twitter account.
Jofra Archer's Original Account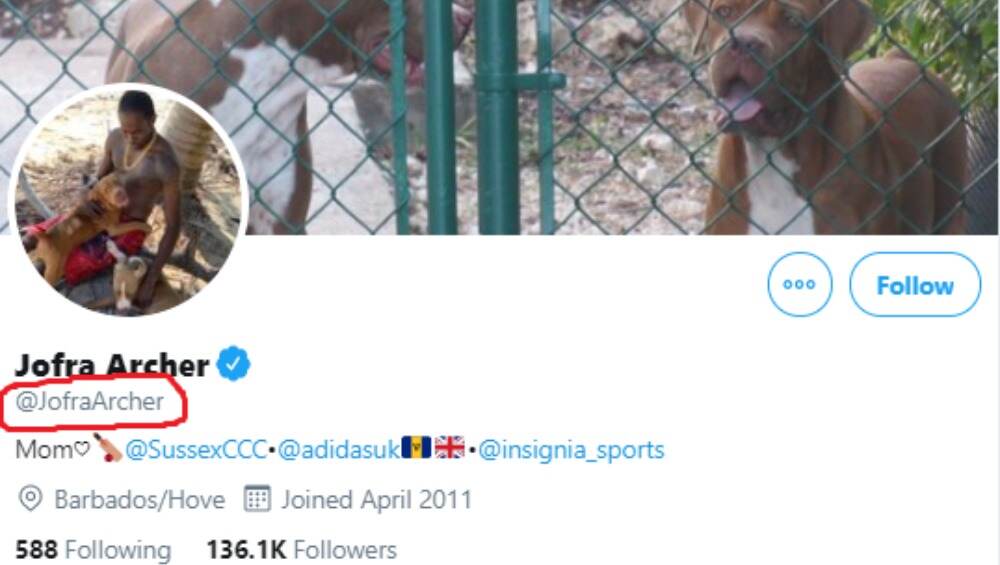 The picture showed above is the original account of cricket Jofra Archer and as informed earlier the username is different from the fake account. The twitter ID of the original account is named exactly after Archer's full name.
Therefore the post made regarding 370 is actually a morphed image created using Archer's original account and may have been made to fool the netizens into believing that it was originally another Archer tweet from the past. Maybe Archer would have prophesied correctly had he made any prophecy regarding article 370 but the cricketer hasn't made nay tweet on it and it is only a morphed image going viral on social media.