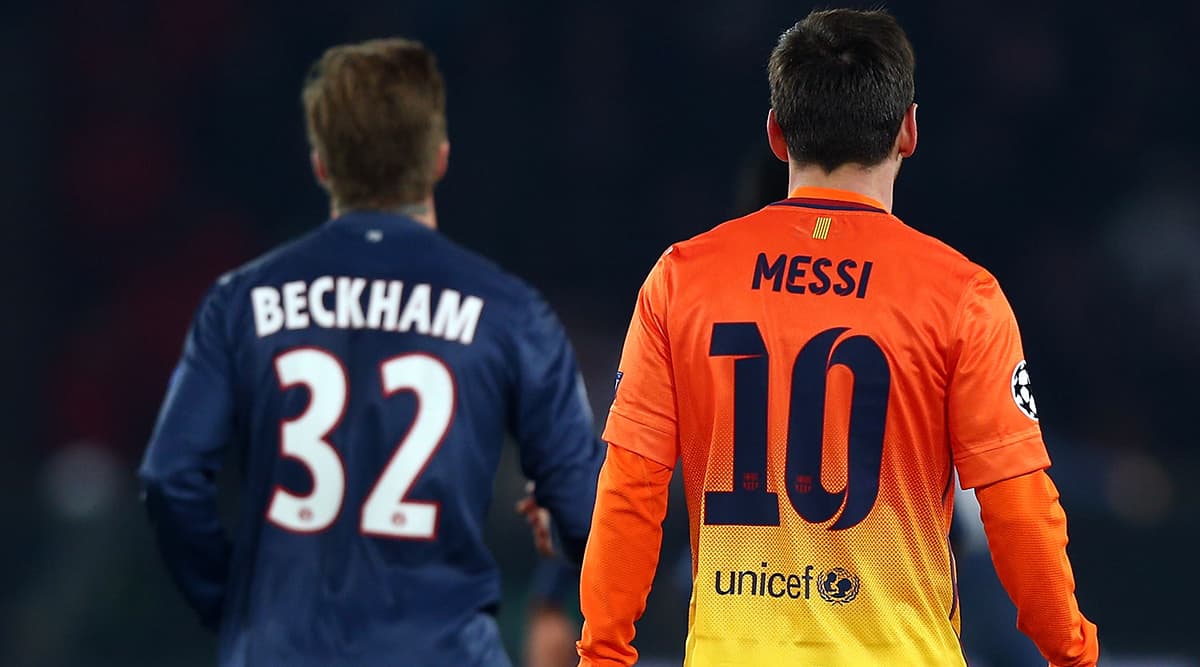 David Beckham has travelled to Barcelona to persuade Lionel Messi and convince him of joining Inter Miami, Beckham's Major League Soccer (MLS) franchise in the United States, alongside his club teammate and friend Luis Suarez, claimed reports in the Spanish media. The Manchester United great and former Real Madrid star has reportedly "made contact" with Messi and has offered him a "big contract" to lead Inter Miami, which is set to enter the MLS next march. Lionel Messi Injury Update: Barcelona Forward Ruled Out of Valencia Clash; Argentina Star Could Also Miss Champions League Opener against Borussia Dortmund.
According to Barcelona-based Catalunya Radio, the 32-year-old Argentine has found the offer "interesting" but is not ready to leave the Blaugrana club now. Reports further stated that Messi –who is set to extend his lengthy injury stay away from football – has huge concerns about his salary and isn't sure if the new MLS franchise will be able to match the salary he commands. Lionel Messi Feels Barcelona Did Not Go All Out to Bring Neymar Back to Club.
"Everyone has their wish list," Beckham, who played at the Bernabeu for four seasons had earlier told reporters, when asked about the possibility of signing Messi and Cristiano Ronaldo for his MLS expansion team in the future. "But if you look at the way Leo and Cristiano are still playing, even at what you might think is the later stage of their careers, I don't see it ending for them. They're playing at such a high level that it's hard to see them leaving the clubs they are at. But we will see. You never know what can happen in football."
The Barcelona forward is currently the highest-paid football player in the world and earns $92 million in salary and bonuses, excluding taxes. He will miss Barcelona's upcoming La Liga clash against Valencia and is also a doubt for the Catalan club's Champions League opener against Borussia Dortmund. Messi, who is yet to make an appearance this 2019/20 football season, was initially expected to return immediately post the international break but is taking longer than expected to recover from the calf injury, he sustained during Copa America 2019.
There have also been ongoing speculations about Messi's future at Barcelona after reports emerged that a clause in his current contract with the La Liga champions allows Messi to leave Barcelona for free next summer. "He has a contract that we signed two years ago," Josep Bartomeu, Barcelona president said earlier on Barca TV.
"For the last year, he can leave Barcelona before the start of the 2020/21 season. It's something that other players like Xavi, [Andres] Iniesta and [Carles] Puyol have had in their contracts," Bartomeu said, adding he was hopeful that Messi was "not going to play for another club and it will stay that way beyond 2021 when his contract expires."
Meanwhile, a Messi-less Barcelona are currently struggling in the eighth position in La Liga points table having registered just one victory in three games. They began the season with a shock 0-1 defeat to Athletic Bilbao before also drawing 2-2 against Osasuna in their final league game before the two-week international break.