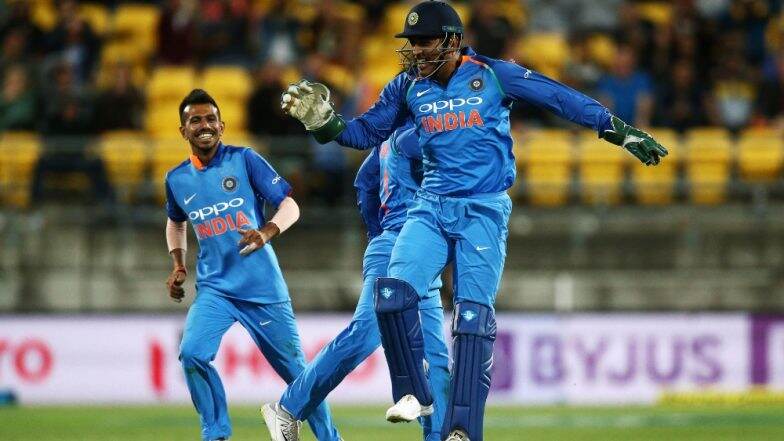 MS Dhoni retirement speculations took over the internet as news emerged that the 38-year-old veteran wicketkeeper-batsman had called for a press conference at 7 pm on September 12 and will possibly announce his immediate retirement from international cricket. Social media and netizens from across the country paid their emotional tribute to the World Cup-winning former Indian captain but things took an immediate turn when chief selector of the Indian cricket team, MSK Prasad, quashed all rumours and rubbished all information that Dhoni was calling it quits. Twitter soon turned happy once again with die-hard Dhoni fans expressing their happiness on hearing their hero and idol was staying and is still an active cricketer. MS Dhoni is Entitled to Take His Own Retirement Decision, Has Nothing Left to Achieve Says Chess Wizard Viswanathan Anand.
Prasad, who also announced the 15-member Indian squad for the three-match Test series against South Africa, informed the press that information about Dhoni's retirement was fake and that the Indian wicket-keeper has not called for any conference nor has he informed the selectors of his retirement. Dhoni is India's second-most capped ODI cricketer after Sachin Tendulkar and has represented India in 350 One-Day International matches. He is also India's fifth and 11th overall highest ODI run-scorer and is among the only 14 cricketers to score above 10, 000 ODI runs. India's Test Squad For South Africa 2019 Series: KL Rahul Axed, Shubman Gill Finds Spot, Rohit Sharma Also Named For Three Tests.
Sakshi Singh, Dhoni's wife, also later took to twitter and posted a rumour tweet on her handle. "Its called rumours" said Sakshi perhaps referring to Dhoni's retirement rumours that hit the internet earlier in the day.
Sakshi Confirms!!
Its called rumours !

— Sakshi Singh 🇮🇳❤️ (@SaakshiSRawat) September 12, 2019
Incorrect News
"No update on MS Dhoni's retirement, the news is incorrect."

- MSK Prasad, Chief Selector.

Now expecting to see some Breaking News or Headlines in some papers/media that "#Dhoni dropped from #IndvSA Test Squad". 😀

— Prabhu (@Cricprabhu) September 12, 2019
Stop Spreading Fake News
When someone spread negativity about Msdhoni's Retirement

Msdians:#Dhoni pic.twitter.com/DGGndQjy3P

— MeMe_वाला (@black_snake10) September 12, 2019
Dhoni is Not Retiring
#Dhoni is not retiring

Haters go bark some where else.

The news is false

This is confirmed my

MSK prasad

— Sheik Mohamed (@Sheik_46) September 12, 2019
15 Years and Running
"NO" Press Conference Today

"No update on MS Dhoni's retirement,

the news is incorrect."

👉 - MSK Prasad, Chief Selector

" If he want to Retire, let him ... "

But All We Need is

We Want him getting a Well-Deserved Farewell🙏🙏 pic.twitter.com/pZwkmx8qU5

— Satheesh (@Satheesh_2017) September 12, 2019
Scared Everyone
#BCCI claims, Dhoni's retirement news is incorrect. Happaaddaa!

If pranking people in public is a nuisance..then spreading rumours is a nuisance too..

Worst raaa dae!

Scared the hell outttaaa mee! There has to be a death sentence for people who spread rumours.. 😭#BCCI #Dhoni

— B.Sharon (@BSharan1) September 12, 2019
Safar Abhi Lamba Hain
Safar Abhi Lamba Hai...!!!

Love You Infinite https://t.co/lsxt6LOBmu#Dhoni #DhoniForever #DhoniInBillionHearts pic.twitter.com/l0KHgZdHh1

— Sidhdharaj Chaudhary (@Sidh_Msd_7) September 12, 2019
Don't Worry About Dhoni's Retirement
#Dhoni going to join again in my paramilitary regiment:Dhoni , don't worry about my retirement 😎✌️✌️

— Pramil Kumar Pradhan (@pramilkpradhan) September 12, 2019
Dhoni last appeared for India in ICC Cricket World Cup 2019 and played the CWC 2019 losing semi-final against New Zealand. His score of 50 from 72 deliveries couldn't help India to a victory as the 2011 World Cup winners lost by 18 runs and were knocked out of CWC 2019. Dhoni's run-out by Martin Guptill in the semis was considered the turning point in that game. But despite the fifty, Dhoni struggled to score consistently in CWC 2019 and could only muster two half-centuries in nine innings.