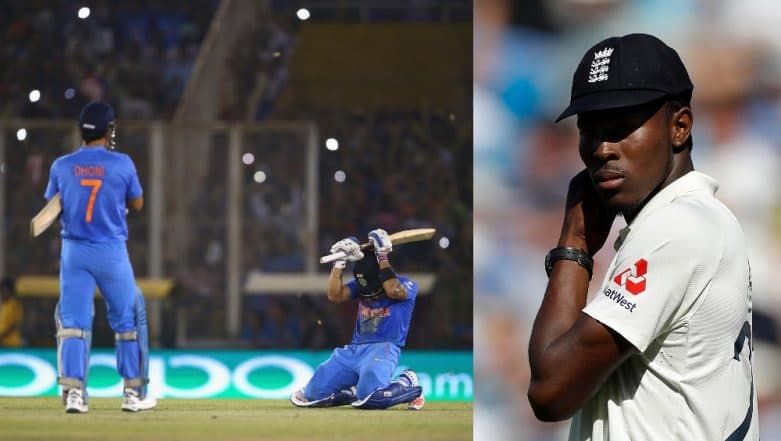 MS Dhoni's retirement rumours sparked fire on the internet after Virat Kohli's tweet on the former Indian captain. But it eventually turned out to be fake with the cricketer's wife Sakshi Rawat and chief Indian selector MSK Prasad confirming the news to be false and distorted. Die-hard Dhoni Fans were relieved on learning the truth but later realised that they wouldn't have had to go through such emotional turbulence, had they read a Jofra Archer tweet. Archer had in the past expressed his hatred about people spreading rumours and his post – like many in the past – found an uncanny resemblance to fake rumours on Dhoni's retirement. MS Dhoni Fans Go Berserk After Wife Sakshi and Selector MSK Prasad Confirms Former Indian Captain's Retirement News to Be Fake.
Kohli's post, which was some sort of tribute to the wicket-keeper batsman, spread speculations that perhaps Dhoni was calling it quits. Soon news emerged that Dhoni has called for a press conference on September 12 (Thursday) to announce his immediate retirement from international cricket. Fans started praising the Indian legend for his services to cricket and pleaded for him to not retire. Many even posted that cricket to them will have no meaning if Dhoni retires so abruptly and somehow Archer's tweet appeared among those tributes, prompting another hilarious reaction from netizens. MS Dhoni to Retire? Fans Trend #Dhoni and Term it 'Black Day' in Indian Cricket as Former Indian Captain's Retirement Rumours Gain Pace (See Tweets).
Jofra Archer Hates People Spreading Rumours
Hate people spreading rumors :|

— Jofra Archer (@JofraArcher) October 14, 2014
Fans were all surprised at how every tweet of Archer has a connection to the future. The England World Cup winner has been highly praised for his predicting future. Almost every post -Archer has tweeted - to this day finds a resemblance to something that is happening currently or may occur in the future. His post on hating people, who spread rumours, may have been tweeted in relation to some other incident, but like more of his earlier posts, even this found a resemblance to a current affair.
His Tweets Decides Future
🤔🤔🤔 Iske tweets se future sahi hote hai

— Sammie Sam (@NautiiBoy) September 12, 2019
Time Traveller!!
Time traveller

— v i Ç k y (@TheriTweets) September 12, 2019
Unbelievable!!!
Can't believe his tweets 🤯

— BRUCE WAYNE❤️(🇸 🇯) (@subashj13) September 12, 2019
Meanwhile, Archer is currently playing the Ashes 2019 Test series with the England Test team. The 24-year-old has blown hot and cold ever since making his Test debut for England in the second Ashes Test at Lord's Cricket Ground. He bowled exceptionally well in his first two Test matches and even took a six-wicket haul –England won that game – but failed to put up the same consistency at Old Trafford where England lost by 185 runs and failed to reclaim the Ashes urn.