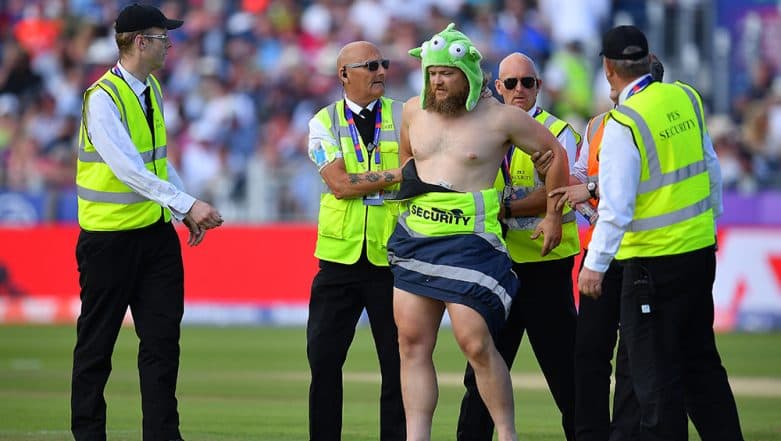 England beat New Zealand by 119 runs to enter their first World Cup semi-final since 1992. It was also the first time England beat New Zealand since 1983. But apart from these long-standing records, which England finally managed to get off their heads, there was another big talking point in the ENG vs NZ game at Riverside Stadium in ICC Cricket World Cup 2019. A streaker had sneaked into the field while the match was going on, leaving fans less impressed by the effort of the security officials at the ground, who failed to notice the movements of the nude man. England vs New Zealand Highlights.
The incident occurred in the 33rd over of New Zealand's innings when Tom Latham and Mitchell Santner were batting. The over was bowled by Chris Woakes. Woakes' fourth delivery had been driven for a boundary when a streaker raced into the ground to surprisingly talk to the two batsmen at the crease. The players were left shocked as the nude man with a green wig raced across the ground chased by the stewards. The streaker also did a cartwheel on the ground amidst huge laughter in the stands even as the security officials found it difficult to nab him. Jofra Archer Overtakes Ian Botham to Become the Highest Wicket-Taking England Bowler in a Single Edition of World Cup; Achieves the Feat During ENG vs NZ CWC 2019 Game. 
Watch the Video Here:
This was, however, not the first time such an incident has occurred in CWC 2019. Earlier, during the Pakistan vs Afghanistan game at Headingley, Leeds a section of fans had broken into the ground to shake hands with the players. Sets of Pakistan and Afghanistan fans also clashed in the stands during the game leading to a huge uproar on social media. This was, however, a different scenario as one man single-handedly disrupted such an important encounter.
Meanwhile, Jonny Bairstow became the first English player to score consecutive World Cup centuries. He is also the fourth batsman in this tournament to achieve the feat. His form with the bat assisted by two good knocks from Jason Roy (60) and skipper Eoin Morgan (42) helped England post 305 runs on board. In reply, New Zealand were bowled out for 186 with Mark Wood taking 3/34 to bring off the victory.