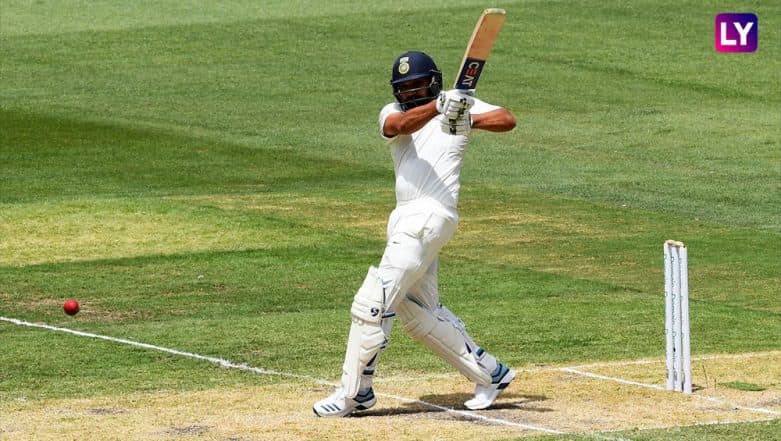 The chit-chat in this India vs Australia Test series has continued in the Third match too. The Australian captain, Tim Paine, was quite humorous, read chirpy, behind the stumps during the Boxing Day Test on Thursday. The Australian captain tried to rattle Rohit Sharma's concentration by talking about the Indian Premier League (IPL), but it all ended in good spirits. Catch India vs Australia, 3rd Test Match Live Updates Here.
Paine began by saying, "It's been a toss-up for me between Royals and Indians, to whom I support. And if Rohit hits a six here, I am changing to Mumbai." However, Rohit took the distraction in his side and just said, "Yeah!"
The fielder at slip position, Usman Khwaja was seen trying to control his laughter. Tim Paine didn't stop there, and the conversation carried on. Paine further added, "Too many Poms at the Royals," referring to too many England players in the Rajasthan Royals' side.
Tim Paine vs Rohit Sharma at 2018 Boxing Day Test: Watch Video Highlights
"If Rohit hits a six here I'm changing to Mumbai" 😂#AUSvIND pic.twitter.com/JFdHsAl84b

— cricket.com.au (@cricketcomau) December 27, 2018
There have been a lot of instances in the series where players were involved in the on-field banter. In of the much-talked episode in the second Test at Melbourne, Tim Paine got into a heated argument with Kohli too. Mayank Agarwal Becomes First Indian Opener Since 1947 to Score Fifty on Debut in Australia: Watch Video.
Later in the day, Rohit Sharma had a reprieve when he was dropped by substitute fielder Peter Siddle, who was on for Pat Cummins. However, Ajinkya Rahane was trapped LBW in the next over by Nathan Lyon, and Australia breath a sigh of relief!