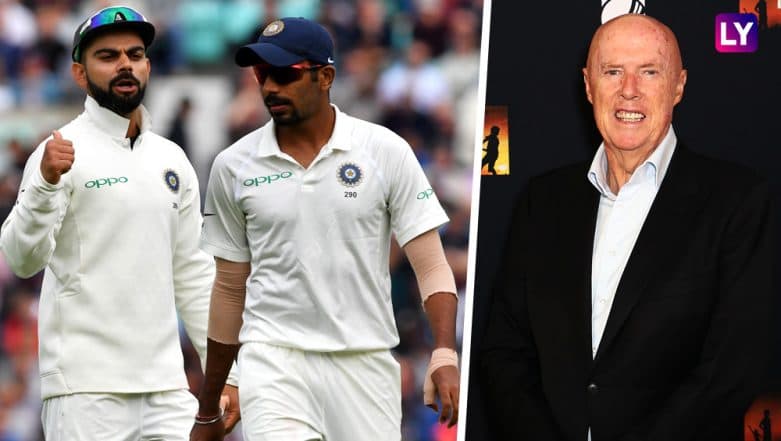 India won in the third Test match against Australia by 137 runs, on Sunday. A lot was said about the chatter that took place, both on and off the field, during the game. Lines were crossed, and so much so that commentator Kerry O'Keefe took a distasteful jibe at India's domestic cricket, and also ridiculed the names of Cheteshwar Pujara and Ravindra Jadeja!
While speaking at the post-match ceremony, Indian captain was quite positive about India's approach in the fourth and final Test of the series. Kohli said, "We are not going to stop here. This has given us more confidence to play more positive cricket in Sydney." Virat Kohli Gifts Pads to a Young Kid, Signs his Miniature Bat After India's Win Against Australia in 2018 Boxing Day Test at MCG!
However, the winning captain didn't stop there and took an indirect jibe at O'Keefe. Kohli made a conscious effort and heaped praise on the first-class cricket in India.
Virat Kohli said, "We've done well in all three departments, which is why we've retained the trophy. But we want to continue…Our first-class cricket is amazing, which is why we won. Credit must go to first-class set-up in India, which challenges our fast bowlers in India, and that helps them abroad."
Jasprit Bumrah ended the match with his career-best figures in a Test match, i.e. 9/86. Bumrah wasn't left behind in talking positively about the domestic setup back home. Virat Kohli a Victory Away from Becoming the First Ever Indian Captain to Win a Test Series in Australia.
The 'Player of the Match' award winner said, "To play Test cricket is a great feeling: be it Boxing Day or any other day… I always focus on consistency… We bowl a lot in Ranji-Trophy cricket, and it pays off."
Both the star players of the match didn't let the controversies hinder their concentration during the game. However, both Kohli and Bumrah gave it back at the right time in one of the most subtle ways. 'Jai Hind', Says Virat Kohli After 137-Run Win Over Australia in Third Test at Melbourne.
India will be playing the final Test against Australia, in Sydney, starting from January 3. It will be interesting to see the final scoreline of the 4-match series, in which the Indian team is leading 2-1. Stay tuned with us for all the latest updates about India vs Australia 2018-19 Test Series!