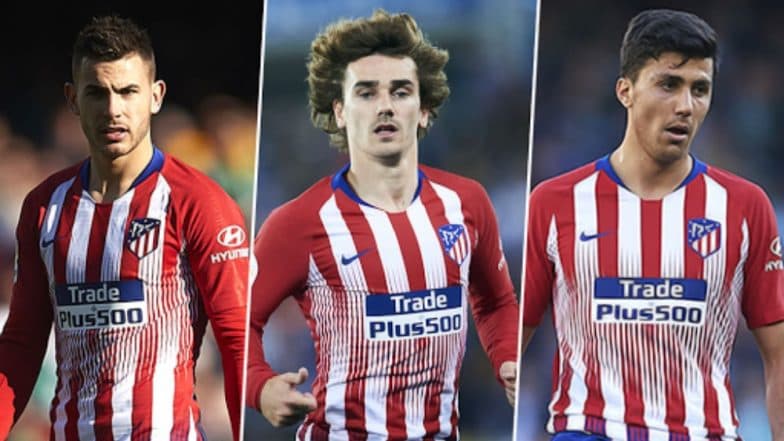 You talk of Atletico Madrid and you talk about grit, determination, discipline and unity. But one announcement on Tuesday and the Rojiblancos are torn into shreds. Star forward Antoine Griezmann announced his decision to leave the Wanda Metropolitano. But he isn't the only one leaving and that means a big summer transfer window awaits the La Liga club.  Diego Godin, Juanfran and Lucas Hernandez, who form the heart of Atletico's backline are all set to depart. While the earlier two are leaving on free transfers, the latter has already signed for Bayern Munich. Barcelona Transfer News: Frenkie De Jong Joins the Nou Camp, Here's Three Players Who Are Rumoured to Join Soon.
But things were so different just a year ago. Both Griezmann and Hernandez had signed five-year contract extensions and with Rojiblancos having some of the best young midfielders in their ranks, prime years at the top looked set for Atletico. Fast forward a year and the situation has drastically changed at the La Liga club.
These afore-mentioned players together were the backbone of the Atletico's dressing room, keeping the squad united. Then suddenly within a day's time, they all are leaving and Rojiblancos doesn't even have adequate replacements. If that didn't surprise you, you would be shocked to know that the Madrid club is set to lose a big crunch of their midfield base. Let's take a look at the players who are either leaving or are confirmed to depart Atletico Madrid this transfer window.
Players Confirmed to Leave Atletico Madrid
1.  Antoine Griezmann
The biggest of them all. Griezmann was supposed to leave Atletico for Barcelona last year. Then changed his mind and stayed for another year. But the transfer was inevitable. Just the fact that his buyout clause was reduced from a reported 200 million euros to 120 million euros left the door open for a move away from the club. He is rumoured to sign for Barcelona for a reported €139 million.
2. Diego Godin
Atletico Madrid's colossal centre-back and godfather to Griezmann's daughter, Diego Godin will be leaving for free after nine years of dedicated service to Atletico. He is out of contract this summer and is rumoured to be leaving for Italian giants Inter Milan.
3. Lucas Hernandez
A 2018 World Cup winner with France and among the world's best young defenders, Lucas Hernandez was tipped to replace an aging Diego Godin at the Atleti defence. But Bundesliga champions Bayern Munich, who are in dire need of a centre-back pairing, paid out the €80 million release clause of the French full-back.
4. Juanfran
Spanish Juanfran is out of contract this summer. Although the right-back was offered a one-year contract, he is expected to leave in search for more football. His departure breaks Atletico's successful defensive quartet, leaving only centre-back Jose Gimenez.
Players Rumoured to Leave Atletico Madrid
While these set of important players are confirmed to leave Atletico Madrid, doubts have already crept in over Atleti's ability to hold on to their other talented stars. Among them, Rodri, Saul Niguez, Jan Oblak and Filipe Luis are seriously considering their options.
1. Jan Oblak:
Slovenia Goalkeeper, Jan Oblak has signed a five-year contract extension with Atletico Madrid. But with a release clause of only €120 million, Oblak will find many suitors among Europe's elites. Oblak is seen among the top three goalkeepers in the world. He has already been linked with powerhouses Paris Saint Germain and Juventus and having the crux of his team broken, he might as well follow the others for a new challenge.
2. Rodri:
The 22-year-old is a perfect player for Pep Guardiola. And with the Manchester City coach looking for an able competitor and eventual replacement for Fernandinho, Rodri might leave. He also has a buyout clause of €70 million, which is not a big price for the Qatari investors of Manchester.
3. Saul Niguez:
Like Rodri, Saul is an Atletico Madrid product. But unlike the former, he has failed to break into Diego Simeone's side and is supposedly unhappy with his role at the club. He is speculated to look elsewhere for more playing time and Manchester United, who might have to deal with the departure of Paul Pogba, considers the 24-year-old as an able replacement.
4. Filipe Luis:
The Brazilian full-back is out of contract this summer and is available for free. Luis, over time, has turned into one of Simeone's most trusted player, but Levante on Sunday might be the last time he is seen on red and white stripes.
Atletico Madrid has also sold Luciano Vietto to Portugal side Sporting CP. The Argentine forward was considered surplus to requirements at the Wanda Metropolitano and was loaned out to English Premier League side Fulham for the season.
Rojiblancos are set to undergo a major upheaval this season with so many of their players leaving at the end of their current season. This might as well be Simeone's biggest test – to hold on to his talented bunch – or else face the difficulty of rebuilding a full squad.