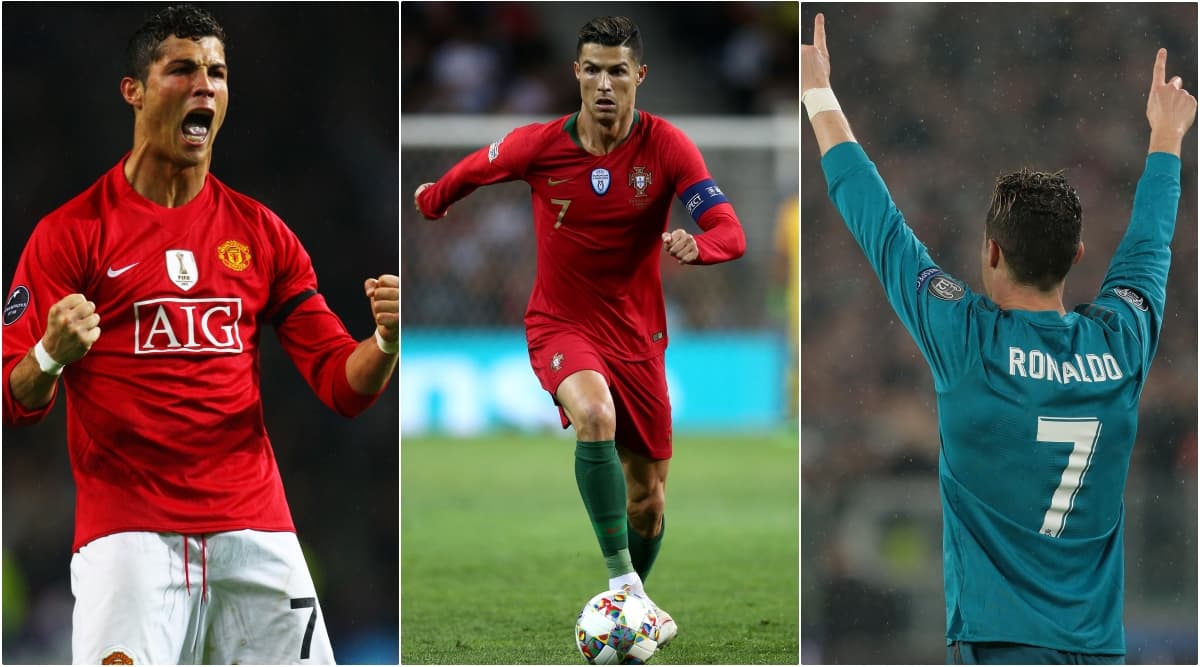 The legendary Cristiano Ronaldo scored his 700th career goal in his country's 2-1 loss at Ukraine last night. For a guy growing up in a humble background in a small town in Madeira, the Juventus forward has lived his dream, and still the hunger for success remains persistent with him. What is about Cristiano Ronaldo that no other player of his generation has. The answer lies in tremendous self-confidence to go with hours and hours of training on the pitch. He has won honours at all his clubs – Manchester United, Real Madrid and Juventus while winning the 2016 Euro Cup and 2019 UEFA Nations League with Portugal. He has taken the term – scoring goals for fun to an all-new level. He has 95 goals for Portugal, 5 for Sporting Lisbon, 118 for Manchester United, 451 for Real Madrid and 32 for Juventus. Here we take a look at the five best Cristiano Ronaldo goals of his career. Cristiano Ronaldo 'Siii' Celebration: Juventus Football Star Reveals the Reason Behind His Iconic Goal Celebration.
1. Free Kick vs Spain – 2018 World Cup
With his team losing 3-2 to Spain at the opening game of the 2018 World Cup, up stepped Portugal's skipper to take a free kick. Ronaldo's precision free-kick which curled behind the Spanish wall to leave David de Gea rooted to the spot not only brought Portugal level, but it also completed his hat-trick.
Watch Video of Cristiano Ronaldo's Goal Below:
2. Long-Range Pile Driver vs FC Porto – 2009 UEFA Champions League
Playing for Manchester United against FC Porto in the second leg of the 2009 UEFA Champions League, Ronaldo and his United team-mates knew they were up against it having been held to a 2-2 draw in the first leg at Old Trafford. But a long-range drive from Cristiano Ronaldo from 40 yards found the back of the net and ensured the Red Devils progressed.
Watch Video of Cristiano Ronaldo's Goal Below:
3. Free Kick vs Portsmouth – EPL 2008
Knuckle ball free-kick is never easy to score, but Cristiano Ronaldo with his own technique made it look ridiculously easy at times. His 25 yard free-kick against Portsmouth on a cold January night in 2008 still makes the internet go crazy. His free kick whistled passed David James, and his wall could barely look at the ball forget about getting their body to it.
Watch Video of Cristiano Ronaldo's Goal Below:
4. Brilliant Footwork vs Espanyol – La Liga 2016
Cristiano Ronaldo absolutely humiliated the Espanyol defence when he twice cut back on his left to shot a powerful drive past the keeper in a La Liga game back in 2016. Receiving the ball from the midfield, the Portuguese skipper raced on to goal but left two defenders eating grass to score a goal many can only dream about.
Watch Video of Cristiano Ronaldo's Goal Below:
5. Overhead Kick vs Juventus – UEFA Champions League 2018
Before joining Juventus, Cristiano Ronaldo scored what is probably the best goal of his long and illustrious career when his overhead kick left Gianluigi Buffon stand and admire the sheer brilliance of the man. The goal was so good, the home fans too joined in to applaud the man that has ruled Europe like no one.
Watch Video of Cristiano Ronaldo's Goal Below:
It is never easy to pick Cristiano Ronaldo's top 5 goals considering he regularly has world-class efforts to his name, but these five goals absolutely broke the internet.