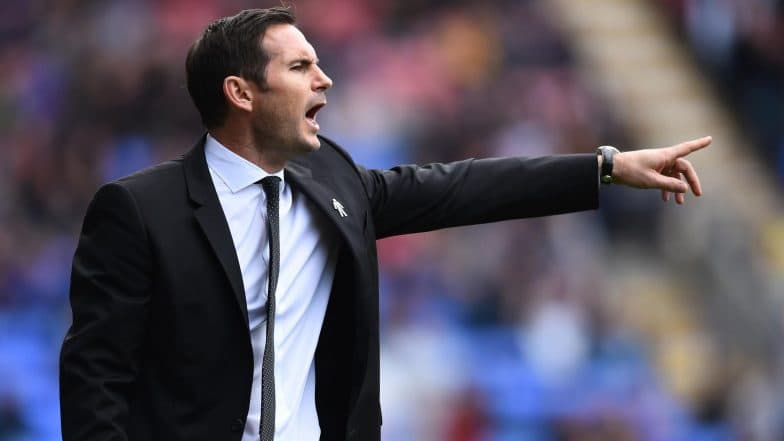 The Round of 16 match of the EFL Cup between Chelsea and Derby County will be played on October 31, i.e. Wednesday. Chelsea boss Maurizio Sarri will see one of the Blues' legend Frank Lampard return to Stamford Bridge in a different avatar. Arguably the greatest player to don the Chelsea shirt, super Frank has been managing Championship side Derby County in the second tier of English football.
His team are sixth in the points table and just four points adrift off the top. This is good going for one of the new entrants in the managerial line, but facing unbeaten Chelsea at the Bridge; surely it can't get tougher than this.
As a player Frank Lampard had everything about him- score goals for fun, make assists, win tackles in the key areas, drive his team high on the pitch. He was what we call the complete modern midfielder.
Lampard is Chelsea's all-time top scorer with 211 goals and winning three Chelsea Player of the Year awards in the manner. He is the only midfielder in the English Premier League to have scored more than 150 goals. He was not only a goal-scoring machine; his vision was immaculate setting up other players in the way. Fourth in the list of EPL all-time assists table with 102 assists is a testimony to that.
In the last round of EFL Cup, he met and defeated the man who made him the player he was-Jose Mourinho. It all started with the arrival of the Portuguese in 2004, and he chose Lampard as one of his warriors.
At the 2005 FIFA Player of the Year awards, Frank Lampard came second behind Barcelona's Ronaldinho. The English midfielder was at a completely different level compared to his rivals. He won a total of 13 trophies with Chelsea which included three EPL titles, a Champions League, a Europa League and four FA Cups.
Probably, his biggest night in the Chelsea shirt was captaining the Blues to a famous win over Bayern Munich in their backyard in the 2011/12 Champions League final where they looked down and out.
Frank Lampard has come up against Chelsea as a player once playing for Manchester City at the Etihad Stadium where he also managed to score an equaliser. But this time he visits his home- the Stamford Bridge.
He will receive a great reception from the home fans, and the atmosphere will be emotional. But like a true professional that Lamps is, he will be plotting Derby County's passage to the next round.