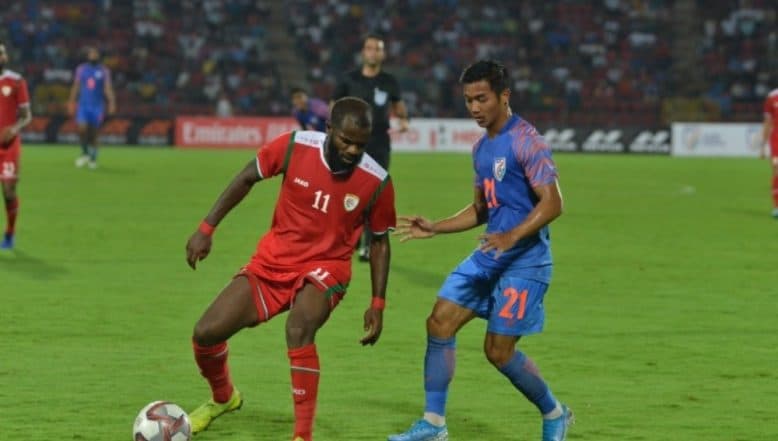 After playing some amazing game of football for the major chunk of the match, Oman made a late comeback sinking Sunil Chhetri led Indian side by 2-1. The Indian footballers were all set to take on Oman in the FIFA 2022 World Cup Qualifier Football at the Indira Gandhi Stadium in Guwahati in the Group E match. The Blue Tigers got a great start to the game as Sunil Chhetri starts off with a goal in the 24th minute. The Indian defence held well until the first half as the Blue Tigers did not concede a goal and the scoreline read 1-0. But a couple of missed chances by the Indians proved to be the turning point for the side. Sunil Chhetri Has a Message For Football Fans Ahead of India vs Oman, FIFA World Cup 2022 Qualifiers (Watch Video).
It was in the 82nd minute that Al-Mandhar Al Alawi netted a goal to produce an equaliser. Suddenly what looked like an easy game for the Indians just turned the opposite. Oman played amazingly well in the last 15 minutes of the game and capitalised on India's mistakes as they the hosts failed to spread the play.  With this, Mandhar stuck the goal for the second time at the 90th minute and gave a much-needed lead to the team.
Needless to say that the Indian fans were extremely upset with the loss and posted tweets on social media. Check out a few reactions below:
Stop conceding goals in the ending moments ffs 😓😓😓😓😓

— Dhaval (@MEMExFeed) September 5, 2019
Mental Block! 
We need 3 more players who can play like players in 1st X1. It's also a mental block last 15mins.

— Ravishanker R (@RavishankerR3) September 5, 2019
Fitness Matters
Fitness. Fitness. Fitness. We need to last 90 minutes, not 70. Hockey nahin hai bhai log.

— Raib Khan (@raib_afc) September 5, 2019
Sure
You Guys Didn't Deserve this 😔

Disappointed 😶

— I've Come 4 My Surya (@KingDazz_Offl) September 5, 2019
India did put up a solid game but that just wasn't enough and Team Oman still remains unbeaten under Erwin Koeman. The hosts were leading for a major part of the game but it was Mandhar who netted a couple of stunning goals and snatch victory from the jaws of defeat. Qatar will next host India where the team will play their next 2022 World Cup hosts on 10 September