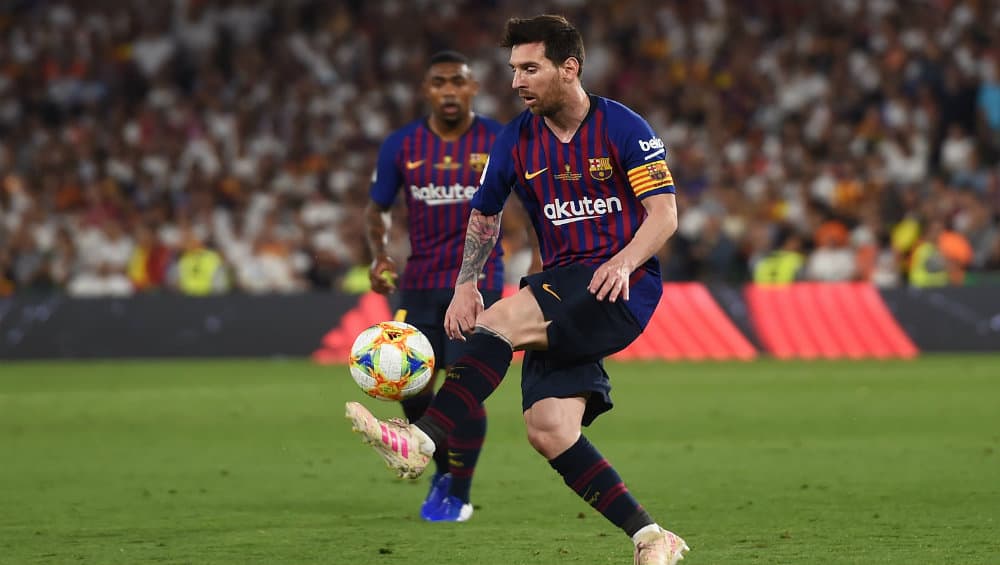 Barcelona crushed Valladolid by 5-1 and it was Lionel Messi who shone by surpassing his arch-rival, Cristiano Ronaldo. The Barcelona star slammed a couple of goals in the match and easily edged out the opponents. With this kicks, Messi now has 607 goals in 695 games for the club side, whereas the Juventus star has 606 goals in 816 games for the club side. It was also the 50th occasion that Messi got to score a free direct kick. The record was shared by the official handle of Barcelona. Lionel Messi Shines As Barcelona Thrash Real Valladolid 5–1, Barca Take Top Spot in La Liga 2019–20 Points Table and Team Standings.
Talking about the game it was defender Clement Lenglet who opened scored goal within the first two minutes of the game. Valladolid's Kiko netted an equaliser at the 15th minute of the game. Arturo Vidal scored a goal at the 29th minute. After Messi's two goals, it was Luis Suarez who drilled the final nail in the coffin at the 77th minute.
Messi in Action:
Video does the talking 🙌🏻🔥 #Messi pic.twitter.com/NR0ehQ4hU6

— Calvin (@CalHignett) October 29, 2019
Here's another kick
The greatest football player ALIVE! #lionelmessi pic.twitter.com/610ttpAxRf

— BroskiPlays (@broskiplays_) October 29, 2019
Tweet by Barcelona
2️⃣ Goals

2️⃣ Assists

1️⃣ Magnificent #Messi performance👇https://t.co/ClP3zMIrvq

— FC Barcelona (@FCBarcelona) October 30, 2019
Barcelona manager Ernesto Valverde was speechless after Messi's magical feat. "What else can be said about him? I've run out of words," Valverde told reporters after the match. "We always know that he will appear, whatever the match. His talent isn't comparable to anything; the reality is that every time he touches the ball, something special happens. I just don't know what to say." With this, Barcelona now stands at the top of the La Liga 2019-20 points table with 22 points in their kitty. The Catalan giants have played 10 games so far in the La Liga season winning seven games and facing one draw.