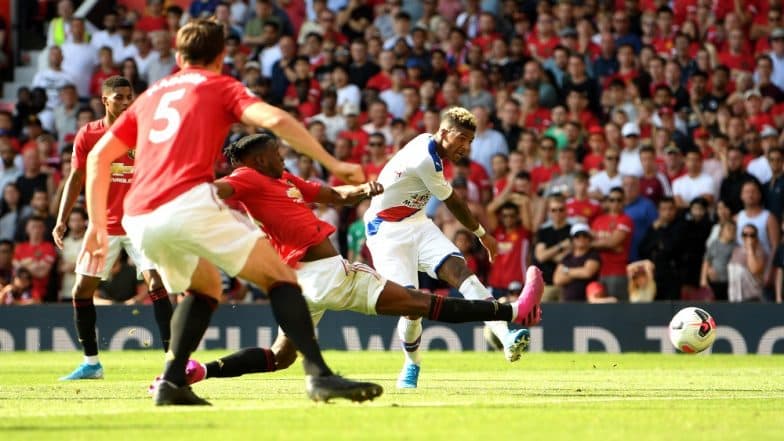 Manchester United slumped to their first defeat in English Premier League season 2019-20 after losing 1-2 against Crystal Palace at Old Trafford on August 24 (Saturday). It was also United's first defeat at home this season and first to Palace at Old Trafford since 1989. Patrick van Aanholt scored the winning goal for Palace after new United signing Daniel James had cancelled Jordan Ayew's opener with a sensational flick from inside the Palace penalty box. But United's loss, after beginning the season with a thumping 4-0 victory over Chelsea, set twitter blazing, with fans finding new memes on jokes on another United downfall. Alexis Sanchez Transfer News: Manchester United Forward Plays Friendly Behind Closed Doors Ahead of Proposed Loan Move to Inter Milan.
Palace forward Ayew had given the visitors a shock lead against the run of play after Jeffrey Schlupp sent him clear on goal from goalkeeper Vicente Guaita's long kick in 32nd minute. The goal came as a surprise for both the set of fans at Old Trafford especially with United controlling the tempo of the ball. Marcus Rashford was also guilty of missing a penalty when his spot-kick ricocheted off the post in the second half.
Leaving it Late...
Leaving it late ⏱

Patrick van Aanholt becomes the first player ever to score a 90th minute winner vs Man Utd at Old Trafford#MUNCRY | @CPFC pic.twitter.com/CrkQwhOpIi

— Premier League (@premierleague) August 24, 2019
Patrick van Aanholt Scores the Winner
Patrick van aanholt Winner against Man United with the Titanic Song is probably the best thing you'll see today. #MUNCRY #MUFC pic.twitter.com/4h4AH0Vpqk

— 🗣 (@ERNESTHDGAMER) August 24, 2019
But despite their dominance on the ball, the home side failed to produce goals on the score sheet until some quick and clever play between their forward three saw James equalise. 'Fergie time goal', screamed the commentator on-air as James pulled United back into the game. But Palace produced their own 'Fergie time' with Aanholt scoring an extra-time winner. Take a look at some of the tweets and memes that flooded Twitter immediately after United's shock home defeat.
Van Aanholt Highlights
The highlight of how van anholt stopped us from taking a point in our own home. #MUNCRY #MUFC pic.twitter.com/je8mQvMD5h

— LA SQUARE collections (@Ay_shizzi) August 24, 2019
Man United Fans Wishing for Chelsea to Return
Man Utd fan since the Chelsea Game #MUNCRY pic.twitter.com/CBGH164ETm

— betclever (@bet_clever) August 24, 2019
Epic Reaction!!
Man United- *#MUNCRY. Wish we were playing Chelsea again, though...

*2hrs later

Man U 1 - 2 Cry

Chelsea fans- #MUFC #MUNCRY Rashford Lingard Zaha Pogba pic.twitter.com/v2Sk0Yv3IX

— Y a k u z a - S u r f e r 🏄🏽‍♂️ (@TheOnlyAbiodun) August 24, 2019
Manchester United Fans After Defeat To Crystal Palace
Us manchester united fans after the today's match 😢 #MUNCRY pic.twitter.com/KxMsd41nQI

— NasasiraArnold🇺🇬 (@NasasiraArnold) August 24, 2019
Everyone Wants to Cry
Man 1 -cry 2.....Man u want 2 cry 😂😂😂#MUNCRY pic.twitter.com/MJhfx7N75M

— KIJꍏNA☂WARU🇰🇪 (@ArdonOchari) August 24, 2019
They're All Rubbish!
Manchester United right now

😂 🤣🤣 😂#MUFC #muncry@Elcrucifixio @currentiyke @FeralJack_ pic.twitter.com/XttU2dwSii

— moyọ̀sọ́re (@vhickkky) August 24, 2019
Meanwhile Other Top EPL Clubs
Man United 1 2 CRY #MUNCRY pic.twitter.com/vTEIm9Bf9U

— LongCross🥇 (@justlongcross) August 24, 2019
When Can We Start Laughing Again?
#MUNCRY pic.twitter.com/agRtZ6KXIm

— S A D E E Q (@EsbeeSadeeq) August 24, 2019
Crystal Palace and Chelsea Player's Reactions
Chelsea players and Chelsea fans reaction to #MUFC man united loss against crystal palace #MUNCRY #LIVARS Man U 😂😂😂😂 👇 pic.twitter.com/ouwVgotavX

— ASPIRIN💉® ❁. (@demilade2600) August 24, 2019
He is In Severe Pain
Pogba

Rashford

I'M IN SEVERE PAINS pic.twitter.com/tIgrDzDNrX

— 👑Superstar_Orcabi🎧🎙🎤💕🇳🇬 (@Orcabi_music) August 24, 2019
Romelu Lukaku Right Now
Lukaku right now😃😃 #muncry pic.twitter.com/fG4pydDNZK

— Al_Hassan (@iam_ayomiidey) August 24, 2019
United began their season on a high after thrashing Chelsea 4-0 at home in their season opener but has since then played 1-1 drab against Wolves before losing to Palace. The Red Devils are currently placed fifth in the points table with four points from three games, while Crystal Palace climbed to top 10 in the standings following their maiden win this season.