After a long break, Mohamed Salah has come back to Liverpool and was seen sweating it out along with his teammates. The Reds are currently preparing in France for their upcoming game against Manchester City in the Community Shield which is scheduled to happen on Sunday. After the gruelling session, the players decided to let their hair down. Salah and Dejan Lovern were seen playing table tennis. The Liverpool attacker defeated the defender multiple times. Luka Modric and Gini Wijnaldum grabbed the opportunity to troll the defender brutally on social media. Lionel Messi's Son Thiago Imitates Mohamed Salah While Playing in the Backyard; Wonder If It Brings Him Memories of Champions League 2019 Liverpool vs Barcelona (Watch Video).
So here's exactly what happened. Dejan Lovern posted a snap about how he needs to seek revenge for his loss against Mo Salah yesterday while playing table tennis. But the attacker defeated Lovern once again defeated Lovern by 7-0 and commented on the snap. Post this, Luka Modric and Gini Wijnaldum hilariously trolled Lovern. Check out the picture below:
View this post on Instagram
With this, Modric suggested that he should stop even attempting to win against Salah. Whereas Gini Wijnaldum asked him to not give up. The comment by Wijnaldum was posted with a wink which surely implies a playful jibe. Check out the snapshot below: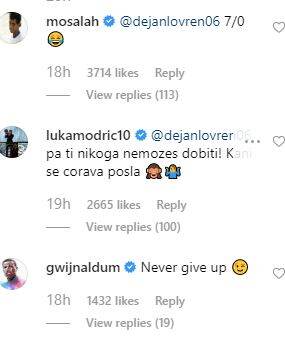 Talking about Salah there have been rumours in the transfer market rumours have ben thick that the striker would quit Anfield and join Barcelona to rub shoulders with Lionel Messi. There was also a rumour that Cristiano Ronaldo's former club Real Madrid is interested in signing the Egyptian. There have been no further updates on Salah's transfer ever since.
(The above story first appeared on LatestLY on Jul 31, 2019 12:48 PM IST. For more news and updates on politics, world, sports, entertainment and lifestyle, log on to our website latestly.com).