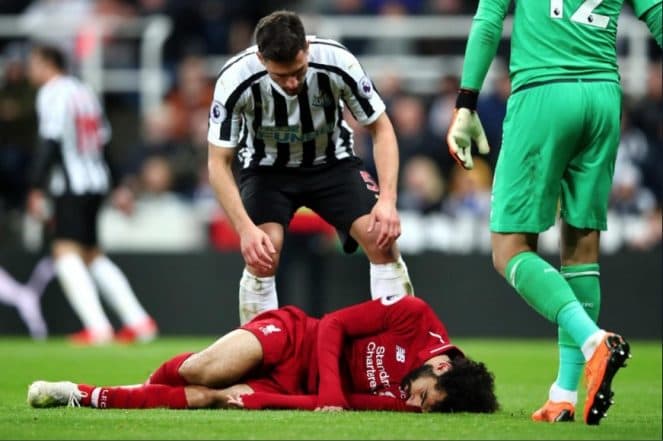 Injury continues to haunt Liverpool. The team was already missing out on the services of Roberto Fermino who was down with a groin injury. Now, ahead of their clash against Barcelona, they could miss out on the services of the Egyptian striker Mohamed Salah who was stretched from the ground after a head injury during the match. It was when the goalkeeper of New Castle caught Martin Dubravka made a contact with Salah's head and Egyptian star feel on the ground.
Salah's head made very hard contact with the ground and the players of New Castle immediately rushed to the football star to have a check on him. Initially, things it seemed as if Salah had suffered from a minor injury, but later the medical staff on the ground had to stretch him out from the ground. NEW 2 - LIV 3 | Newcastle United vs Liverpool - Live Football Score.
Watch video.
@MoSalah is really hurt. He hasn't moved at all 😭

@LFC #Salah#LiverpoolFC pic.twitter.com/M2PWN7UPVl

— Charlotte Gumbi (@Charlee_Hustle_) May 4, 2019
Here's another video.
Get well soon #Salah I wish he can come back agains. #LFC #lfcthai pic.twitter.com/K5WAHPqBOH

— ███ ❤~Nokx~⚽ (@NokxYah) May 4, 2019
Salah walks out after his head injury.
Talking about the game, the team won the game by 3-2. Mohamed Salah also went on to score a goal at the 28th minute. Liverpool scored the first goal at the 13th minute and Christian Atsu scored an equaliser at the 20th minute. Salah then gave the lead to the team and then Salomon Rondon from New Castel netted yet another goal at the 54th minute. Divock Origi netted a goal at the 86th minute and won the game for Liverpool.