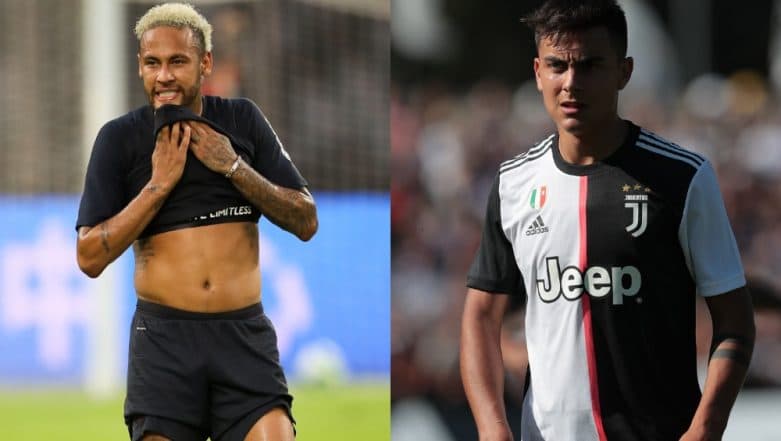 Neymar's long ongoing transfer saga seems to have unsettled not just the player but club Paris Saint-Germain itself. The French champions, perhaps distracted by the exaggerated and drawn-out affair of their Brazilian star's eventual move away from the club, lost 1-2 at Rennes just two weeks after beating them in the Trophée des Champions final. Neymar has stated his decision and PSG are also ready to sell. But no clubs have so far matched their  €200m transfer demand. Juventus, however, seems to have come up with a stunning deal involving Paulo Dybala.  Neymar Transfer Latest News Update: Juventus Join Barcelona and Real Madrid in Race to Sign PSG Forward.
Neymar didn't play in the Trophée des Champions final, he wasn't present either on Monday. But things regarding his place at PSG have changed drastically in those two weeks. Neymar has voiced his decision of leaving the club this summer and with both Barcelona and Real Madrid interested, his departure looks imminent. But a third club Juventus look likely to be the ultimate destination. Neymar Transfer News: Barcelona to make Offer to get The Brazilian Star on Loan.
PSG coach Thomas Tuchel was, however, adamant that Neymar won't be departing France unless the club gets an adequate replacement. "He will not leave without recruitment," said Tuchel following the defeat to Rennes. "It is not possible. It's clear, if he stays we will have a player who can help us win." And going by his words PSG might have found an able replacement in Serie A. Reports from Spanish outlet AS claim that Juventus are ready to offload Paulo Dybala and off additional cash to secure the Neymar deal.
Juventus' stunning entry into the Neymar transfer saga has at least given the story a new boost. According to reports the Serie A giant's sporting director Fabio Paratici has offered Dybala plus cash in a player-swap deal to sign Neymar from PSG. The Italian champions are interested in linking the Brazilian star with forward Cristiano Ronaldo. They, however, are expected to face tough expectation from Barca and Real, both of whom are desperate to land Neymar in Spain.
According to the report from AS, Juventus have offered PSG €97 million in cash plus Argentine international Dybala. The 25-year-old was close to signing for English Premier League clubs Manchester United and Tottenham Hotspur. But while he rejected the former, despite being offered a record deal, Dybala's image rights stopped him from joining Spurs.
Meanwhile, Real have been informed that they must send centre-back Raphael Varane and teenage sensation Vinicius Junior to France in they want a deal for Neymar. Barcelona, on the other, have been negotiating a loan deal for the return of their former player to Camp Nou. Both the Spanish clubs have already spent heavily on this summer transfer window and want a player-swap or a loan deal.