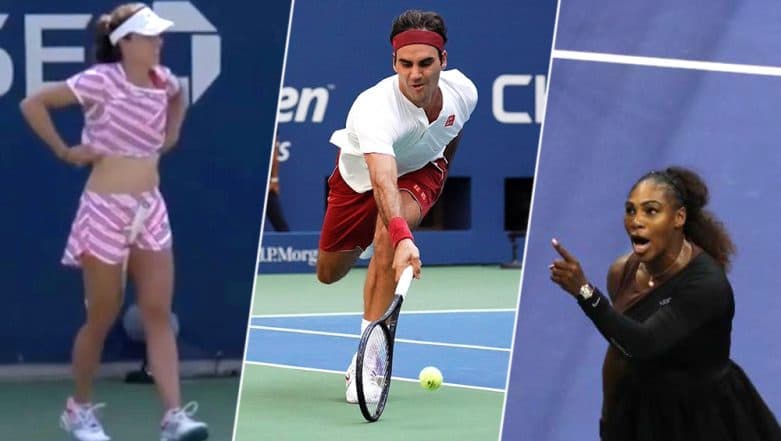 The US Open 2018 offered an action-packed fortnight with a blend of sublime tennis backed by splendid moments both on the court and from the spectators stands at the Arthur Ashe stadium. From Roger Federer's round the court short to Rafael Nadal retiring injured in his semi-final clash against Martin Juan del Potro, the historic final between Serena Williams and Naomi Osaka in women's singles finals to women's single player Alize Cornet handed a violation for changing shirt during match, this US Open has seen more if not the most a grand slam has in recent times.
Here are the top five moments from US Open 2018 that the fans are bound to remember for a long, long time:
1. Roger Federer's Round the Court Shot
37yo Roger Federer with the shot of the tournament so far. It's unreal #USOpen pic.twitter.com/TqGWoLGtE7

— Gaspar Ribeiro Lança (@gasparlanca) September 1, 2018
Trust Roger Federer to leave his mark on a tournament even if he fails to win it. Because quite simply, you just can't keep the Swiss game out of any list in tennis, as  long as it is about tennis. The round the court shot Federer played against Nicholas Kyrgios in the third round of the US Open, even left his opponent exclaiming in disbelief. Roger Federer's 'Fantastic Shot' from US Open 2018 and His Four Kids Cheering From Sidelines is the Monday Motivation You Need (Watch Video).
2. French Player Alize Cornet Handed Violation for Changing Shirt
French women's tennis player Alize Cornet was handed a violation for taking her shirt off on court at the US Open 2018. The violation handed to the player sparked an outrage on the social media with many terming the Grand Slam's decision making authority's move as "sexist." The US Open was quick in issuing a clarification on the matter but the issue had sparked a debate till then. Sexism on Court? French Player Alize Cornet Handed Violation for Changing Shirt During US Open 2018 Match, Watch Video.
3. Rafael Nadal Retiring Injured From the Semi-Final Match
Rafale Nadal is famous for his grit and determination. Ask any men's singles tennis player who has faced him  and they will tell you how difficult it is to breach the 'Great Wall of Nadal.' But even the ever persistent and ever fighting Spaniard had to retire hurt from his semi-final clash against Juan Matin del Potro. It is rare to see the World No. 1 player Rafale Nadal let go of a point easily, let alone giving up in a match.
4. Novak Djokovic Unleashing His Fury at the Crowd
A bit nervous Novak? #USOpen (GIF @ashishtvslams) pic.twitter.com/KGJMu2kAhs

— We Are Tennis (@WeAreTennis) September 9, 2018
Novak Djokovic isn't exactly a gentleman on the court. And he is not to be blamed for it as the crowd loves the 'DJoker' as Novak or Nole is lovingly known. Watch the Giff above to see Novak snapping at the crowd at the US Open 2018. Novak Djokovic Wins US Open 2018 Men's Final Title, Claims 14th Grand Slam Title, Equals Pete Sampras' Tally.
5. Meryl Streep's Oscar Winning Performance in the Stands
And the award for best performance by a fan in a leading role goes to...

🏆🙀🎞🎥#USOpen pic.twitter.com/MRpcV99pNa

— US Open Tennis (@usopen) September 9, 2018
Trust Meryl Streep to invoke the actor in her, whenever the camera has the good fortune to capture her. Streep's reaction not just made her one of the most discussed aspects from the Novak Djokovic vs Juan Martin del Potro men's singles finals, but also featured her on Twitter moments.
6. Serena Williams Emotional Meltdown in the Final Against Naomi Osaka
Serena Williams will never cheat you are winner always have been forever will be #Serena @serenawilliams pic.twitter.com/Sspwxr1UY8

— ESTHER BODY-LAWSON (@Bodyesther) September 8, 2018
The finals of the US Open 2018, turned out to be quite an eventful one for both Japan's Naomi Osaka and Serena Williams. The Arthur Ashe Stadium in New York was filled up with boos from the audiences after Naomi Osaka defeated Serena Williams by 6-2, 6-4. Reason for boos from the audiences? The chair umpire handed the American a series of penalties for and the US Open 2018 turned out to be the most controversial finals of all times. Serena Williams Fined $17,000 for Three Code Violations During 2018 US Open Final.
Novak Djokovic defeated the third seed Juan Martin del Potro of Argentina in straight sets to claim his third US Open men's singles title and his 14th Grand Slam. For world number three Del Potro, it was a heartbreaking experience coming in just his second Slam final, nine years after he was crowned US Open champion. Naomi Osaka created history by becoming the first Japanese player to win women's singles Grand Slam title and US Open.