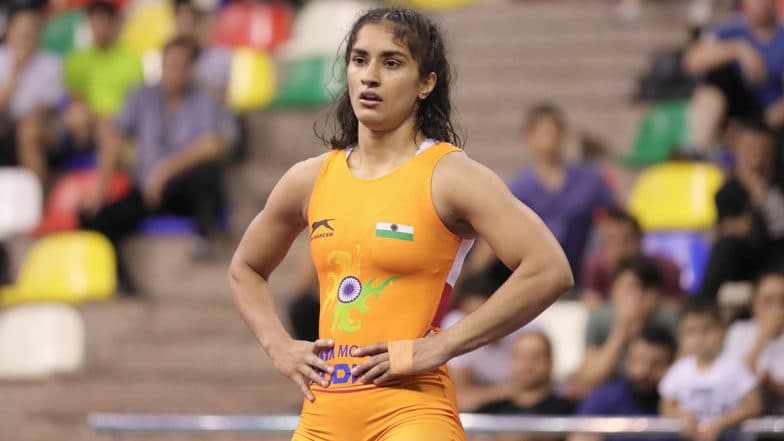 Vinesh Phogat clinched India's first medal at the 2019 World Wrestling Championships. The 25-year-old, who became India's first women gold medallist at the Commonwealth and Asian Games in wrestling, pinned two-time Worlds medallist Maria Prevolaraki of Greece in the 53kg category to win the bronze and take India to the podium for the first time in the 2019 edition of the Wrestling Championships. The bronze was a double celebration for Phogat, who had earlier in the day becomes India's first wrestler to qualify for the 2020 Tokyo Olympics. Twitter congratulated the history maker for securing the Olympic berth but couldn't hide their excitement when Phogat sealed the bronze and set India's hopes high for Tokyo. Vinesh Phogat Scripts History at 2019 World Wrestling Championships, Sets India's Hopes High For Gold at 2020 Tokyo Olympics.
The bronze medal at the 2019 World Wrestling Championships completed an incredible fightback for Vinesh, who at one stage trailed 0-1 in the medal bout. She won the bout against Prevolaraki 4-1 having seen off World No 1 Sarah Ann Hildebrandt and 2016 Olympic medallist Sofia Mattsson in the earlier rounds. Vinesh first thrashed Mattsson 13-0 in the opening round but lost out 0-7 against Japan's Mayu Mukaida that knocked her out of the competition. Vinesh Phogat Qualifies For Tokyo Olympics 2020: Sister and Wrestler Babita Phogat Posts a Congratulatory Video.
The Moment Vinesh Phogat Put India in World Maps
#VineshPhogat wins Bronze at #WrestlingWorldChampionships at Nur-Sultan, Kazakhstan pic.twitter.com/hqQcdFFM0N

— editorji (@editorji) September 18, 2019
India's Record Girl Vinesh Phogat
Vinesh Phogat's Biodata reads like this now:

Bronze: World Championships | 2019

Gold: CWG | 2018

Gold: CWG | 2014

Gold: Asian Games | 2018

Silver: Asian Games | 2014 pic.twitter.com/WqudxCrVov

— India_AllSports (@India_AllSports) September 18, 2019
But with Mukaida reaching the final, Vinesh was given another lifeline to at least challenge for the bronze and she cupped it with both hands. The reigning Commonwealth and Asian gold medallist beat Yuliya Khalvadzhy-Blahinya 5-0 in the first repechage round before overcoming returning World silver medallist and top-ranked Hildebrandt 8-2 to not only qualify for the 2020 Tokyo Olympics but also reach the final medal round. Twitter jumped in exuberance as Vinesh clinched the bronze.
A First of Many
First ever World Championships medal, first woman wrestler from India to qualify for two Olympics, first time from Worlds: Vinesh Phogat 🇮🇳 pic.twitter.com/rZ3HBrRHcs

— Vinay Siwach (@siwachvinay) September 18, 2019
Vinesh Phogat is Going to Tokyo
Vinesh Phogat is going to Tokyo! pic.twitter.com/rOi0ma49El

— Vinay Siwach (@siwachvinay) September 18, 2019
A Statement We Won't Forget
"What I left in Rio will take in Tokyo."

Wow! What a compelling statement from #VineshPhogat.

— Jaspreet Sahni (@JaspreetSSahni) September 18, 2019
Vinesh Phogat is a Real Champion
The whole nation watched with agony when post dat harrowing knee injury, she stumbled out of Rio in excruciating pain.

Today, she wins Bronze in World Championship n declares she is ready for Tokyo Olympics.#VineshPhogat : A real Champion you are#Wrestling@Phogat_Vinesh pic.twitter.com/0BEkHyQ0Ed

— Ambika (@apmahapatra) September 18, 2019
Congratulations On the Bronze
Congratulation for wins bronze at the World Wrestling Championship. (PTI) pic.twitter.com/rOc1ntS34X

— RAMKRISHNA (@belikeramu) September 18, 2019
Two Feats In a Day
Hours after sealing a Tokyo Olympics quota place for India in the women's 53 kg freestyle wrestling, Vinesh Phogat won her maiden World Championships medal by outclassing Maria Prevolaraki of Greece on Wednesday in Nur-Sultan.#Vinesh_Phogat pic.twitter.com/uEGrcwe3Wy

— (#ăñńąkęš#ãvã (@keshava689) September 18, 2019
An Inspiration!!
Phenomenal win for @Phogat_Vinesh as she beats Sarah Hildebrandt (USA) 8-2 & enters bronze medal match at the World Wrestling Championship.#VineshPhogat is now first Indian wrestler to qualify for #2020Tokyo Olympics! You're an inspiration for women everywhr. Power to you champ! pic.twitter.com/YqvCUgBMcx

— Baijayant Jay Panda (@PandaJay) September 18, 2019
Ticket Booked
And Vinesh Phogat books her flight to Tokyo. Wins a really tough repechage around against 2018 World Cup silver medalist Sarah Hildrebrandt from the US! First Indian wrestler to qualify for Tokyo '20. pic.twitter.com/wMB9I33EEc

— Joy Bhattacharjya (@joybhattacharj) September 18, 2019
Phogat is also the first Indian women wrestler to clinch a medal at the World Wrestling Championships in a pre-Olympic year and the first women wrestler to qualify for consecutive Olympic games. She remains India's biggest hopes at the 2020 Tokyo Olympics.