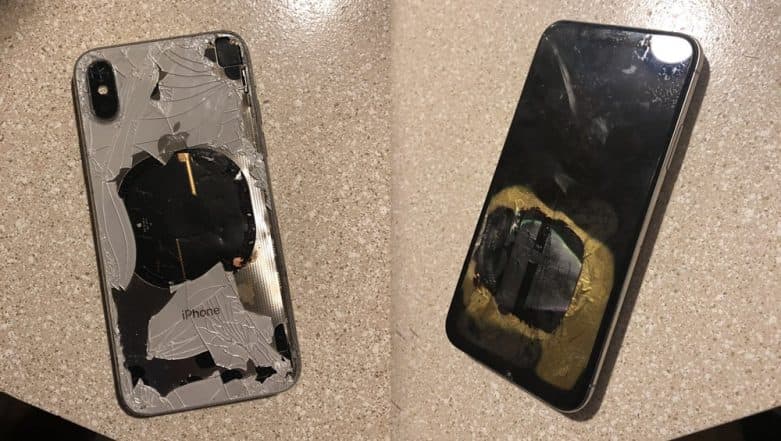 Apple's over expensive smartphone, which was launched late last year allegedly exploded on Wednesday after being upgraded to iOS 12.1 update. This incident happened in Washington, US and this development came from the city of Federal Way. The user claimed that iPhone X, which was 10 month old started emitting smoke and eventually exploded after it was updated to iOS 12.1. Apple Accepts Issues in iPhone X and 13-inch MacBook, Company Offers Free of Cost Repair.
The user identified as Rahel Mohamad mentioned that, "This year early January I bought the iPhone and have been using it normally." he said. The iPhone X was in process of getting updated to iOS 12.1 when Mohamad, as is standard practice, put it on charging. "Dark grey smoke started coming from the phone. The update was completed and as soon as the phone turned on it started to smoke and caught fire." Apple Appoints Nokia Veteran Ashish Chowdhary to Lead India Operations.
@Apple iPhone X just got hot and exploded in the process of upgrading to 12.1 IOS. What's going on here??? pic.twitter.com/OhljIICJan

— Rocky Mohamadali (@rocky_mohamad) November 14, 2018
The user further claimed that he was using the official bundled Apple lightning cable as well as wall adapter received with the phone for charging it. And, he was using the same, when the incident happened. He further that he had already removed the phone from the charger when it exploded. "When I held the phone it was very hot and I drop the phone immediately. Then it started to smoke."
The user has reached to Apple, wherein the company has promised to investigate the matter and has asked the user to ship the iPhone X to them. Though Apple will be investigating the issue, a faulty battery or any other damaged component within the smartphone could be the reason.