Amidst the Facebook data leak scandal that happened recently, the social networking giant has now added another feature to its Indian app users. With this new feature from Facebook, the users can recharge their prepaid mobile number. This recharge feature from the company seems to be currently available through its Android app only which has been spotted on the version 167.0.0.42.94. Powered by UPI, this new feature to Facebook App is added after almost 2 months when the payment option for Whatsapp was rolled out in India. See More: Facebook Data-breach Scandal: Indian Government to Examine Mark Zuckerberg's Testimony Before US House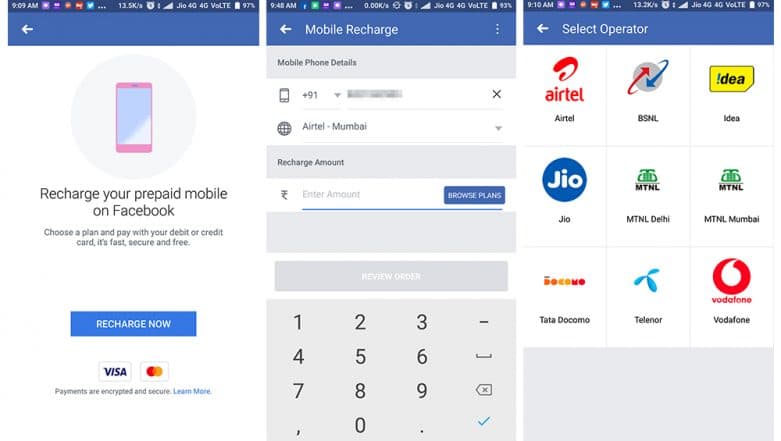 In order to locate the 'Mobile Recharge' option on the Android app, the users need to tap on the right-most option on the top. However, if you don't find it there, you can tap on 'See More' to located the feature.
On locating the option, the user will be guided to the welcome screen mentioning 'Recharge Now' followed by "Choose a plan and pay with your debit or credit card, its fast, secure and free." The users need to tap on the Recharge Now button which will lead them to another page where they have to input the mobile number they want to recharge. After putting the number, the users will be required to select the operator and plans they wish to recharge with. However, once the complete mobile number is entered, the app automatically selects the operator.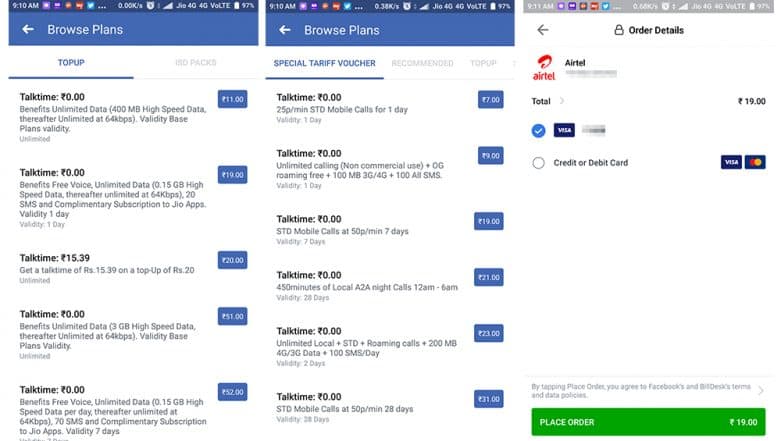 Once the plan is selected, the users will be directed to the order details screen where they will have to select the payment options. The users will be required to add credit or debit card details for placing the order. Once the payment details are added, the app will then ask for an OTP or 3D secure password for completing the recharge. Read More: Man Kills Wife For Ignoring Kids; Says She Was Addicted to Facebook, WhatsApp
As this new feature from Facebook is spotted on the Android smartphones only, the iPhone users still haven't received received the same feature yet. Moreover, the users can recharge only prepaid mobile numbers, however, postpaid bill payment provision is not offered. Another important aspect that the users should note here is that the Facebook App is offering recharge payment via debit or credit card only. There is no option for making payment using internet banking, UPI or other payment methods.