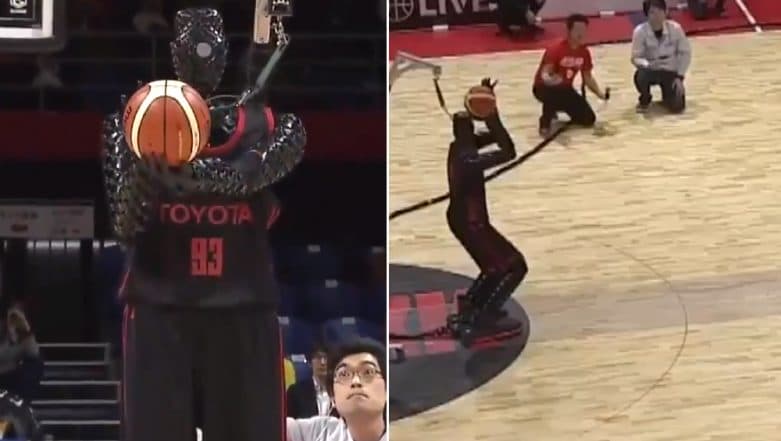 The times are not far when robots will take over humans and with Toyota unveiling a robot that plays basketball, people are almost panicking. Toyota designed a robot called Cue and in the new range they showed off the robots swift moves on the basketball court. Cue3 donned a Toyota jersey and made perfect throws. So while it may not be that great at mobility, the fact that robots can replace players in future has made people worry. Robot Runs For Mayoral Candidate in Japan! AI Politician Promises Fair and Balanced Politics.
Over the years, there are different robots that have been developed to ease human tasks. While they help in some areas, getting them as sports players is something people are definitely not looking forward to. Cue3 uses artificial intelligence to squat, aim, spring upward and release the ball. It is 6 feet and 3 inches tall and it beat two Japanese pro players in a head-to-head competition, thus fans of the sport are screaming a negative for robots. Robot Waiters To Serve People At Restaurant Run By The Disabled in Japan (Watch Video).
Watch Video of Toyota's Robot Cue3 Scoring Half Court Shot in Basketball:
「狙ったシュートは100%外さない」

A東京のGAMEでお披露目されたAIバスケットボールロボット"CUE3"🤖🏀

超ロングシュートもCUE3にかかれば楽勝です🤷‍♂️@ALVARK_TOKYO #Bリーグ pic.twitter.com/eW9tpQ54EF

— B.LEAGUE(Bリーグ) (@B_LEAGUE) April 11, 2019
People were shocked at its skill and think the end is near, if such robots are continued to be made. Check how some people reacted.
Humans vs Robots Soon
2100 NBA all star game, Humans vs Robots

— Arian Sadri (@arian_sadri18) April 11, 2019
Robots Can't Have This
Nah fam we can't let robots have this https://t.co/p1tMfdr6Qu

— Benjamin Cruz (@cruzkontrol) April 11, 2019
We gotta stop!
I know it's all fun and games right now, but we gotta STOP. https://t.co/jASmyh1VQc

— Janson Silvers (@JansonSilvers) April 11, 2019
No bots
— Spirit (@TheRobloxSpirit) April 12, 2019
End is near!
My goodness the end is near for all of us. https://t.co/W1XVzOXUtq

— Curtis Fitzpatrick (@cfitzfox) April 11, 2019
So while this robot may be good in terms of its functioning, it is a collective sentiment that we cannot take robots to take over us humans.