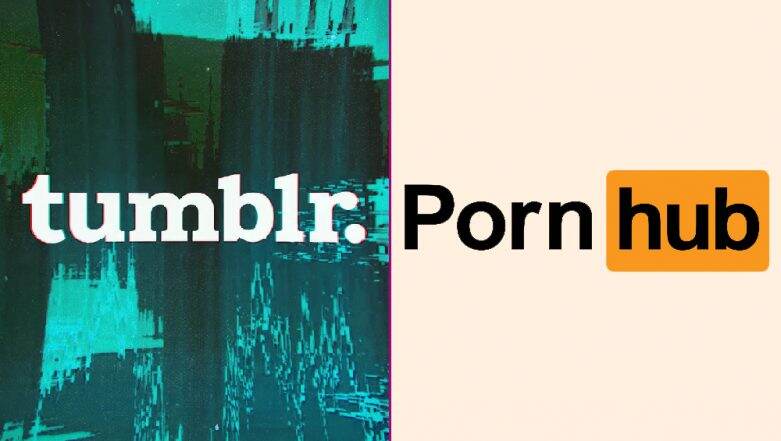 Verizon, the telecommunication giant reportedly is looking to sell off Tumblr that was acquired from Yahoo in the year 2017. According to the report from The Wall Street Journal, Verizon had approached several other companies in the last few weeks on the pretext of selling the blogging platform. If the market reports are to be believed, Verizon faced adverse effect on Tumblr's traffic post porn ban from its platform. As Verizon is seeking a buyer for Tumblr, Pornhub reportedly seems to be very much interested in acquiring the platform. Pornhub Meme of Donald Trump 'Orange Man F***s Entire Democratic Party' Shared By Trump Jr on Instagram…As Expected.
According to BuzzFeed News, Pornhub VP Corey Price mentioned that the adult website is extremely interested in buying Tumblr from Verizon. He stated that, 'Pornhub is very much looking forwards to one day restoring it to its former glory with NSFW content'. However, the company did not specify whether they have actually made any offer to Verizon. As per Tumblr's about page, the platform hosts over 465.4 million blogs along with 172 billion posts.
The adult website VP referred to the major change the blogging platform witnessed late last year wherein the company took steps to ban porn and adult content from its blogging platform. Moreover, Verizon had been employing AI algorithm for detecting any porn or adult content, which gets automatically blocked, be it images or videos. On the other hand, the access to the existing posts comprising of porn or adult content were revoked by making them private. This drastic step taken by the company faced severe criticism from the audience resulting steep decline in web traffic. However, the platform didn't give any indication of reversing its decision to ban porn. After Banning XXX, Tumblr Makes Come Back on iOS App Store; Blogging Platform Cleans Up Child Pornography.
Currently part of Verizon Media Group, Tumblr was acquired from Yahoo in the year 2017 at $4.5 billion. To recall, Yahoo itself acquired the platform for $1.1 billion in 2013. As per the same report from WSJ, the sale process of Tumblr is ongoing and we may soon see some transition happening in the near future. If Pornhub acquires Tumblr, the platform might be restored with NSFW content which reportedly has been hinted by Vice President of Pornhub.