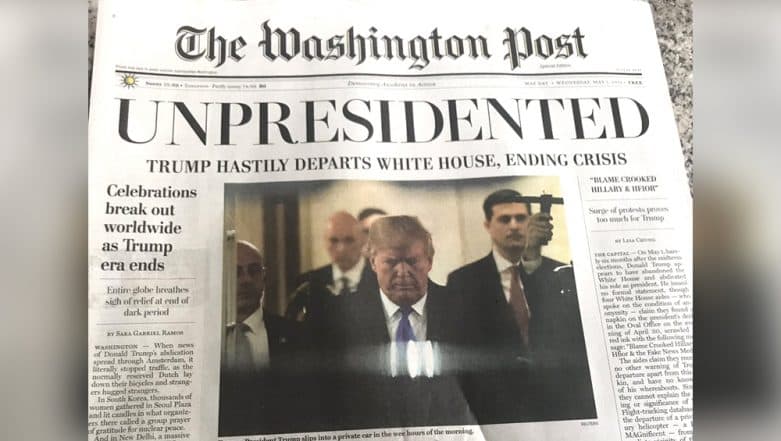 A chilly January morning in downtown Washington D.C. was made warmer when copies of The Washington Post hit the street that carried the banner headline, "UNPRESIDENTED". People on social media went haywire as the videos capturing the copies that were distributed on the street were surfaced online. Before you begin your speculations, note that it was fake editions of the American daily newspaper. The post claimed, "UPRESIDENTED Trump hastily departs White House, ending crises." The front-page lead story was accompanied with a four-column photo of the United States President Trump with his head down, visibly upset. Donald Trump Pays From His Pocket for Burgers and Fries to Treat Football Team Clemson Tigers at White House Amid Government Shutdown. 
The fake print papers dated May 1, 2019, looked strikingly similar to the actual copies of The Washington Post, were filled with anti-Trump stories. The false claims also appeared on a website that imitated the official Post site. The real Washington Post reported that the fake newspapers could be the work of anti-Trump supporters and an activist group called Code Pink, which posted a video on Facebook showing co-founder Medea Benjamin distributing the parody copies. Donald Trump Walks out of Meeting to End US Government Shutdown. 
Benjamin said in the video, "The crisis is over, Trump has left the White House. It's very exciting." She further said, "Trump is gone, he's toast. You gotta believe in the Washington Post."
Watch Video of Code Pink Co-Founder Medea Benjamin Distributing Fake Washington Post
What did the Fake Washington Post Claim?
The lead story said that Trump had left a resignation message on a napkin in the Oval office and left Washington for Yalta, the Crimean resort that was the site of a meeting of Allied leaders during World War II, reported The Washington Post (the real one). Another report in the fake edition stated that people across the world are celebrating Trump's resignation. "Vice President Mike Pence took the oath of presidency in the bible of his grandmother, at his hurried swearing in," reads another article.
According to the last page 'Bye Bye' supplement attached to the newspaper, it revealed that women wrote all the front articles. A US journalist, who is working with Newsweek, Ramsey Toucberry said in a tweet that he spoke to one of the activists, Lisa Fithian who told him that the fake newspaper edition was a "collaborative project" involving many activists.