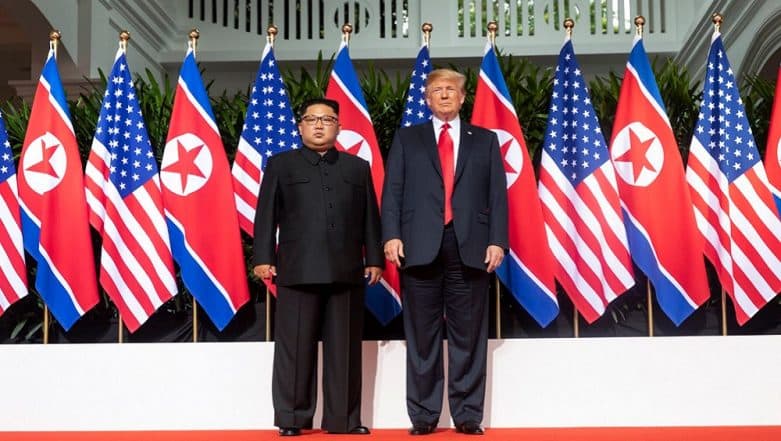 A day after North Korea's ruler Kim Jong-un warned the U.S. in a New Year message against arm-twisting the country into giving up its nuclear weapons and ballistic missile programme, US President Donald Trump has tried to paint the situation with North Korea in  a more positive light. In a brief tweet on Tuesday, Trump said he "look(s) forward to meeting with Chairman Kim" and "who realizes so well that Kim Jong-un had again committed to not testing any new nuclear weapons and that the ruler wanted to further North Korea's great economic potential!"
The tweet also hinted at Trump's desire of conducting a second summit with the hermit country's ruler as the US President considers the first Singapore summit as a major diplomatic victory.
"Kim Jong Un says North Korea will not make or test nuclear weapons, or give them to others - & he is ready to meet President Trump anytime." PBS News Hour. I also look forward to meeting with Chairman Kim who realizes so well that North Korea possesses great economic potential!

— Donald J. Trump (@realDonaldTrump) January 1, 2019
The tweet came after Trump told his cabinet that he had "just got a great letter from Kim Jong Un," reiterating that he still expected to hold a second summit with the North Korean leader, after the pair signed a pledge on denuclearization of the Korean peninsula in Singapore last June.
"We really established a very good relationship," Trump said. "We'll probably have another meeting."
Despite Trump's attempt to paint the ongoing negotiations in a positive light, talks to get North Korea to de-nuclearize have essentially stalled as Pyongyang insists on sanctions relief before it begins to give up its nuclear weapons. In his New Year speech, Kim Jong-un had warned countries (meaning U.S.) against further sanctions. Kim Jong-un said, "If the US does not keep its promise made in front of the whole world... and insists on sanctions and pressures on our republic. We may be left with no choice but to consider a new way to safeguard our sovereignty and interests."
Demanding sanctions relief, Kim Jong-un condemned US insistence on its nuclear disarmament as 'gangster-like'.