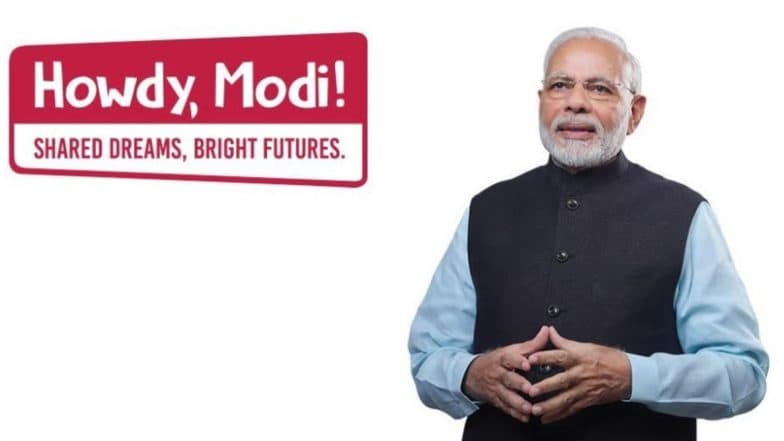 Houston, September 22: Prime Minister Narendra Modi along with US President Donald Trump on Sunday will provide the glimpse of the contributions of the Indian-American community to the United States in the mega "Howdy, Modi!" event in Houston, Texas. The event will be held at the sprawling NRG Stadium. The function will begin at 8:30 pm IST (Indian Standard Time) and continue until 11:30 pm IST.  Howdy, Modi! 2019 Date and Time in India: Schedule of The Mega Event Where PM Narendra Modi and Donald Trump Will Address Over 50,000 Indian-Americans.
Prime Minister Modi is on a week-long visit to the United States from September 21 to 27, for the annual session of the UNGA or United Nations General Assembly. It is Indian Premier's first US visit after being re-elected as the Prime Minister on May 2019. On Saturday, PM Modi met CEOs of global oil companies after landing in Houston. 'Howdy, Modi!': US President Donald Trump Likely to Deliver 30-Minute-Long, Major Speech on India.
Here is How You Can Watch "Howdy, Modi!" Event While Sitting in India:
The event will be live-streamed on various online platforms such as Twitter, Facebook and Youtube. The event will be streamed in Hindi, English and Spanish.
On Facebook
The Youtube page of the "Howdy, Modi!" will live streaming the programme in English, Hindi and Spanish.
On Twitter, the Prime Minister's Office (PMO) will live stream the event.
The event will be attended by over 50,000 Indian-Americans. The cultural programs will have around 400 performers and community members from Texas and across the US. According to some media reports, two original songs have been written for the event. The function has been organised by the Texas India Forum.
"The event is a grand celebration of culture and unity of America and India, where attendees will hear Modi speak about the deepening US-India ties strengthened by the confirmations of over 3 million Indian Americans in the US and will lay out his vision of India's growth and development," TIF spokesperson Priti Dawra said.