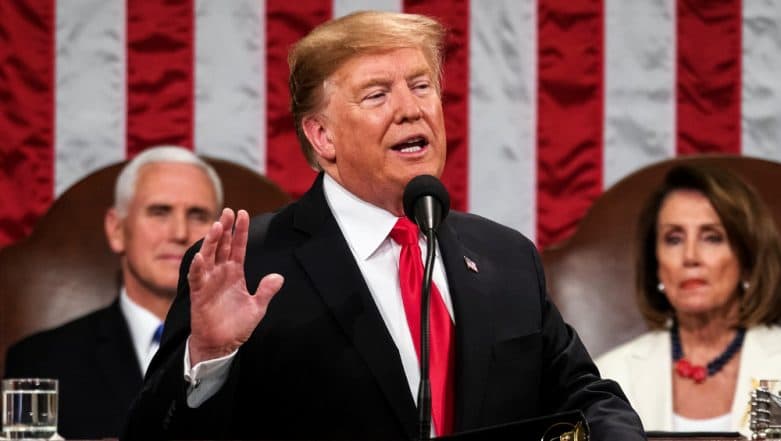 Washington, March 22: The Islamic State or ISIS has been defeated "100 per cent" by the United States and its allied troops, President Donald Trump on Friday. Displaying the map of the war-torn Middle East region before he assumed power, the President first pointed out to the vast swathes of territory which were held by the terrorist group, and subsequently pointed towards another map which showed that they have been wiped away.
"There's ISIS, and that's what he have right now," Trump said. White House spokesperson Sarah Sanders, who issued a formal statement after the President's presentation, said that ISIS ceases to exist in the area which was once claimed by it as the Islamic Caliphate. Donald Trump Says Time to Recognise Golan Heights as Israel's Sovereign Territory.
Donald Trump later took to Twitter to validate his regime's claim that the ISIS no longer exists in Syria. The ideology behind the terror cult, however, still survives online, the President added.
"IS uses the internet better than almost anyone, but for all of those susceptible to ISIS propaganda, they are now being beaten badly at every level," he said.
"There is nothing to admire about them, they will always try to show a glimmer of vicious hope, but they are losers and barely breathing. Think about that before you destroy your lives and the lives of your family," Trump further added.
The statement by the White House, declaring the complete elimination of the ISIS from Syria, comes days after the US-backed Kurdish forces launched a spree of bombings to remove the extremists from their final stronghold of Baghouz.