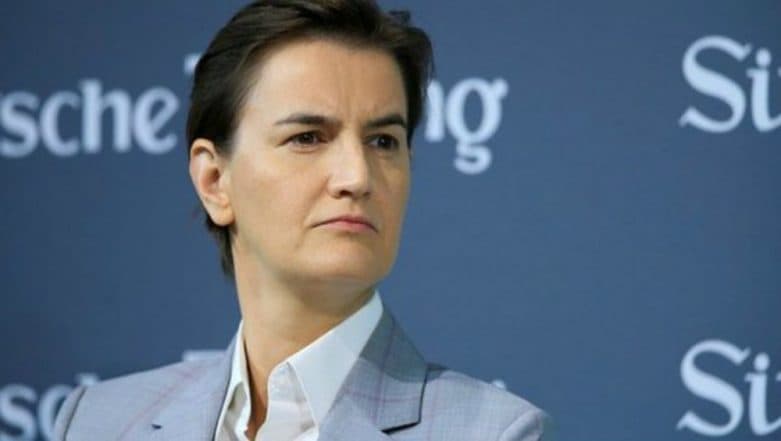 Belgrade, February 21: The same-sex partner of Serbia's Prime Minister Ana Brnabic has given birth to a boy in what the Prime Minister's office called a "historic event" in a country that does not recognize gay marriage.
A statement from Brnabic's office said Milica Djurdjic, who gave birth on Wednesday, and her baby were doing fine.
"Ana Brnabic is one of the first Prime Ministers whose partner has given birth while in office... and the first in the world in a same-sex couple," according to the statement cited by Efe news. Scientists Make Same Sex Mice Have 29 Babies Using Stem Cells and Gene Editing, View Pics!
When Brnabic, 43, took office in 2017, she became Serbia's first openly gay Prime Minister. That time, the LGBT community expressed hope that she would highlight discrimination minorities face in the conservative Balkan state.
The Serbian Constitution does not recognize marriages of same-sex couples and clearly defines marriage as an act between a man and a woman. Same-sex couples are banned from adopting children, although single people can do so regardless of their sexual orientation.
Serbia has made some headway in improving discrimination, inequality and incitement of hatred legislation, but many organizations lobbying for gay rights say these laws are not applied and there is still a long way to go to achieve equal rights.
Activists have also accused Brnabic of not being a more vociferous supporter of the need to modify legislation in order to ensure minorities' rights are enforced and respected. Brnabic and Djurdjic live together although there is no official document that recognizes their partnership.
The local media reported that Djurdjic, a doctor, underwent artificial insemination treatment in 2018. The child officially has only one mother, Djurdjic, his biological parent.