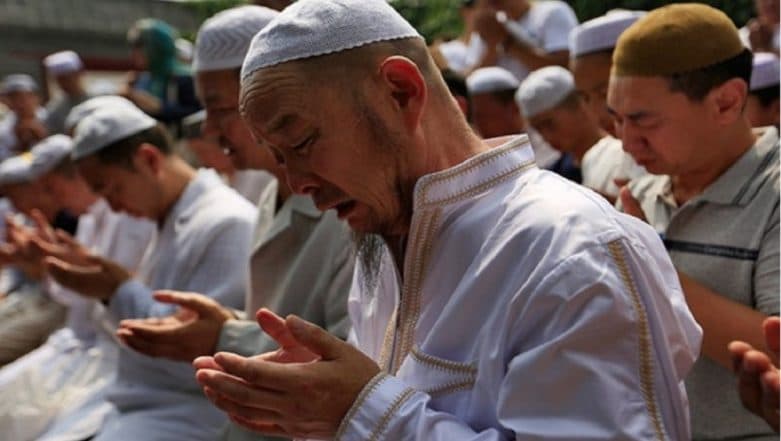 Toronto, February 25: Ahead of the United Nation's Human Rights Council's first full session of 2019, China is working to re-brand the Xinjiang mass detention centres as "preventive counter-terrorism and de-extremism work."
According to a report by Reuters published in The Guardian, China invited envoys from close to 80 countries to explain its stand on terrorism and what it is doing at the detention centres in Xinjiang. The Xinjiang deputy governor, Erkin Tuniyaz, and deputy foreign minister, Zhang Hanhui were reportedly roped in to explain China's "development achievements" in Xinjiang – its only Muslim-majority province.
"Xinjiang's counter-terrorism and de-extremism efforts have created a new way to solve the symptoms and root cause of the difficult global issue of counter-terrorism, and are worthy of praise," the statement paraphrased Zhang as saying. It added, "China will continue to make its due contribution towards the global fight against terrorism."
China's foreign ministry added that the "successful experience in Xinjiang was worth studying and drawing on."
Beijing's attempt at explaining the Xinjiang mass detention centres comes after it has been heavily criticised at the UN as well as by other countries such as the U.S. and Turkey for the "mass detention" of its Uighur Muslim minority population.
Human rights groups such as Amnesty International and Human Rights Watch have reported that these detention camps have held over a period of time almost one million Uighurs. Detained Uighurs are then forced to swear loyalty to Chinese President Xi Jinping and put through a rigorous and forced training regime after being picked up Chinese police. The World Uyghur Congress said in a report that detainees are held indefinitely without charge, and forced to shout Communist Party slogans. It said they are poorly fed, and reports of torture are widespread.
The UNHCR session which begins from February 25 and will go on till March 24, 2019 is expected to bring up the issue of detained Uighur Muslims in China.