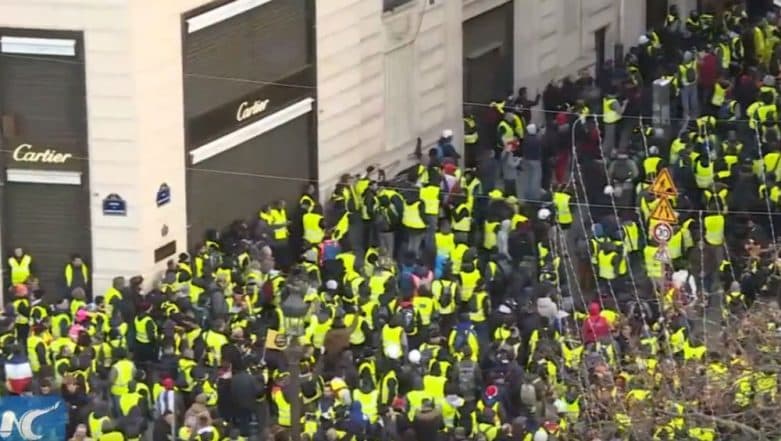 Paris, December 8: Over 300 people have been detained by police just before the Saturday's Yellow Vest rallies in Paris, reported news agency AFP. Around 90,000 security personnel have been deployed on the streets to "control" the surging crowds from turning hostile. France Yellow Vest Protests: Government Mulls State of Emergency Over Agitations Against Fuel Price Hike and Economic Policies.
However, reports and videos on Twitter indicate that the crowds are already out on the streets protesting. The number of arrests are likely to go up over the course of the day. France Protests: What Are The 'Yellow Jacket' Protesters Demanding From President Macron?
Watch the Police Using Tear Gas on Protestors:
Moment tear gas deployed in Paris on 4th weekend of #YellowVests protests

DETAILS: https://t.co/xx05YWDAcj #LesGiletsJaunes pic.twitter.com/ejtTPAqGKW

— RT (@RT_com) December 8, 2018
Some 8,000 officers and 12 armoured vehicles were deployed in Paris alone, where shops were boarded up and sites like the Eiffel Tower and the Louvre Museum closed.
The "yellow vest" movement began three weeks ago in opposition to a rise in fuel tax and planned increases in taxes on polluting forms of transport, but it has since evolved into broader demonstrations against the government of President Emmanuel Macron.
The government has been saying that the movement has been hijacked by "ultra-violent" protesters.
Last week, thousands wearing high-visibility yellow jackets clashed with the police in Paris as demonstrations escalated into anti-government violence.The French government later suspended its plans to hike fuel taxes following the huge public backlash. Reports say that even the police has sustained injuries while trying to control the protestors.(With agency inputs)