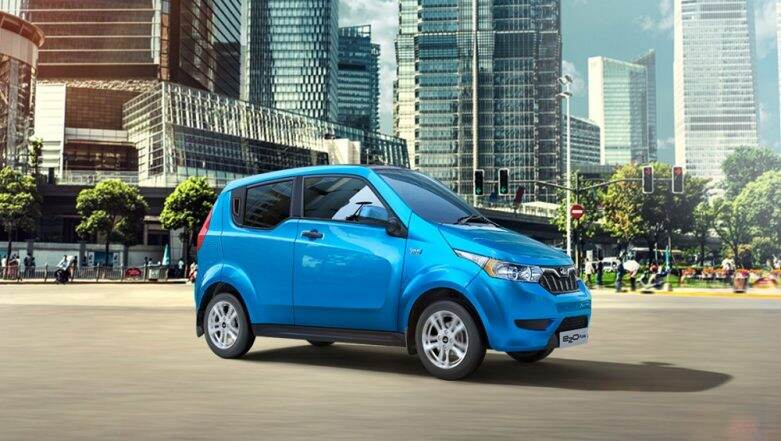 The Mahindra group, the revolutionary name behind the Electric Vehicle segment in India has recently announced it is going to put in Rs 900-crore over the next four years in its Electric Vehicle policy and in a way has reaffirmed its stand on what it believes is a true game-changer in the Indian automobile industry. The company plans to invest Rs 400-crore in Karnataka and Rs 500-crore in its Maharashtra unit. This is in addition to the initial investment to the tune of Rs 6500-crore, the company had pumped in for its manufacturing plants. The additional money will be utilized to increase production capacity and improve its technology and products.
Speaking to the media during Magnetic Maharashtra, Pawan Goenka, MD of Mahindra Group, said, "We are not waiting for any policy to move forward. To be a pioneer, you have to create the road and we have to move forward." The company has set an ambitious target of rolling out 4000 units by December 2019 with its current manufacturing capacity is set at 400 units, hence the timely investment breathes a new life into the Electric Vehicle market in India. It also plans to manufacture all components of Electric Vehicles, except batteries which it has time and again iterated needs greater share of local manufacturing and hence has to be imported.
Not Just Mahindra & Mahindra, several other automobile giants such as Toyota, Tata Motors, Maruti Suzuki, Hyundai Motor Company have taken a liking for Electric Cars.
At the recently held Auto Expo 2018, Tata unveiled its upcoming Tiago EV which could run up to 100 km/hr for 130-km on full charge. BMW showcased its i3s which is equipped with 33kWH battery and can touch 0-100kmph in 6.9 seconds. Among intriguing EVs, Maruti's E-Survivor also grabbed eyeballs with the concept of autonomous driving ability and the entire dashboard is touchscreen.
So, what exactly is an Electric Vehicle and why experts say it is shaking up long-established industries, let us have a look.
What is an Electric Vehicle?
An Electric Vehicle (EV) is a vehicle powered by an electric motor, instead of an internal combustible engine and the motor is run by using the power stored in the batteries. The batteries have to be charged frequently by plugging into any main (120V or 240V) supply.
The First Electric Car Launched in India
Maini Reva was the first electric car ever produced in India by business tycoon Chetan Maini in 2001. Later, in the year 2010 the electric firm of Bangalore-based Maini was acquired by the Mahindra group and with the help of Maini himself created the Mahindra E20. The original model was a simple two-seater with more emphasis on its electric motor than design. The car went further evolution and a more advanced version, the new E20 plus was launched by the company in 2016. This subcompact car is a four-seater with sharp looks and a better power delivery.
Mahindra eVerito - Built on the same electric motor as the E20 Plus, the sedan class EV has an electric range of 110Km. The eco-friendly electric sedan uses a lithium-ion battery that takes 1 hour and 45 minutes to be fully charged through fast charging technology and will take over 8 hours on regular mode. Its top speed is rated at 86Kmph and priced at a decent 10 lakh (ex-showroom, Delhi).
Upcoming Electric Car Models in India
Tata Tigor Electric – The Tata Motors under an agreement with Energy Efficiency Services (EESL), an entity of the Ministry of Power, rolled out the swanky new Tata Tigor which is an electric version of the standard Tigor car. The electric engine has been developed by Electra EV with a peak output of 30kW.Its battery capacity is yet to disclosed by Tata Motors, but this car does pack a punch as it is tied to a government body hence massive outreach is expected.
Tesla Model 3 – The second half of 2018 will see the launch of Tesla Model 3 with an expected price on the upwards of 35 lakhs rupees. The car is powered by a 50kW battery and also boasts of a 70kW battery backup which makes it a leader in the sedan class. It also needs to be noted that the car can cover a distance of 355km with its advanced battery technology.
Hyundai Kona Electric – The Hyundai group will introduce the electric version of its Kona car in the coming months in India. The main focus for Hyundai in this segment is to reach a speed of 384km with its 28kWh battery. The makers also aim to introduce a wide range of connectivity features with the car. The advanced safety features of the car coupled with distinct styling has Hyundai pin a lot of hope on it.
BMW i3 - Talking of electric cars for the elite class, we have the BMW i3 which was recently unveiled at the Auto Expo 2018. The car costs a whopping 1 Cr and has a 33kWh battery with a range of 280km. Since it is a car of the BMW family, its styling and comfort needless to say remain an out of the world experience. BMW has said it is going to aggressively sell the i3 series electric cars in Indian markets.
Apart from these, there are many electric-hybrid versions which have also caught the fancy of Indian buyers.
Toyota Camry Hybrid - Among hybrid cars, the top player in India is clearly the Toyota Camry. The car comes in both petrol and hybrid models and it is the latter that has accounted for 70 percent of the car's sales in India. It is powered by the company's DOHC VVT-I 2.5 litre petrol unit paired with an electric motor. The output tally thus soars to 202 bhp thus making it hugely popular.
Toyota Prius – Built on the TNGA (Toyota Next Generation Architecture), the Prius has an impressive power output of 122PS with its electric engine in support role producing 72 PS of the total power capacity. Both the petrol engine and electric engine are handled by Hybrid Synergy Drive Technology which leads to better co-ordination and greater power output.
Honda Accord Hybrid - Unlike the Camry, the Accord comes in a hybrid version only and is sold in India as a completely built unit(CBU). The Honda Accord hybrid's combined power output is rated at 212 bhp and costs over Rs 40 lakh. It is more expensive than its closest competitor, the Toyota Camry but its stylish look and more power certainly makes it a value for money.
Volvo XC90 T8 Excellence – Priced at a lavish Rs 1.25 crore, Volvo XC90 T8 Excellence Plug-In Hybrid was launched in India in 2016. Volvo India introduced the four-seater that is built on modular Scalable Product Architecture (SPA). Tom von Bonsdorff, Managing Director, Volvo Auto India during the launch stated that Volvo XC90 T8 Excellence is for people who believe in 'responsible luxury'.
Again, there is so much more to watch out for in the hybrid segment in addition to the above brands as more and more companies are falling into electric car market.
Not Just Private, Electric Taxis on the Way as Public Transport
In 2017, Nagpur witnessed a launch of a fleet of 200 electric vehicles including taxis, e-rickshaws and buses as the NDA government pushes for a clean and pollution free environment. Half of the numbers included the Mahindra E20 Plus. Speaking about the ambitious drive, Union transport minister Nitin Gadkari told PTI "Mahindra and Mahindra will be providing 200 electric taxis for the project."
Not only Nagpur, Mahindra has plans to take the electric vehicles revolution across the country. According to Reuters report, Mahindra and Mahindra has plans to partner with taxi-service provider Uber to set up electric vehicles aka electric-taxis in Delhi and Hyderabad by March 2018. "The two companies will also work with public and private firms to set up charging stations for the cars in Hyderabad. Mahindra has previously said it would invest 6 billion rupees ($93 million) over the next 2 to 3 years to develop electric vehicles. The carmaker is currently working on two electric passenger vehicles, including one with its South Korean unit Ssangyong Motor Co," adding further.
Government policies on Electric Vehicles in India
The Indian government does not seem to have a clear roadmap when it comes to electric vehicles manufacturing and providing the basic infrastructure for the sector to thrive. Although it has set its sight on the year 2030 being the year where every automobile in India will have an electric motor, it recently made a U-turn on its prior commitment of bringing a new EV policy. Call it as an outcome of lobbying of a select group of industry people or the sheer non-translucent approach of the policymakers, it has not set a path for radical changes. The government instead has set its sight on bringing an action plan that will help in the formulation of the electric grid in the country dedicated only for Vehicles. At the moment, the central government has not given any incentives for the EV manufacturers and the demand for the cars too as such has not picked up. Certain states like Maharashtra has chipped in with a differential GST treatment as a kind of sop for electric car makers which has got the ball rolling as far as production is concerned. But clearly, a lot has to be done if India is to become a leader in EV manufacturing.
Charging Stations in India
The demand for Electric Vehicles in India will only increase if an infrastructure solely supporting the smooth plying of such vehicles is present on the ground. With this in mind, Ministry of Heavy industries brought in a policy of a standardization of charging stations for electric vehicles – Bharat EV Charger AC-01 and Bharat EV Charger DC-01. The policy did not include the use of private chargers and restricted itself to the use of public chargers. Many leading private companies are now collaborating with power companies and municipal bodies to set up charging stations in India on a large scale. Some of the recent undertakings in this field include NDMC installing 65 charging stations in Delhi, Ola venturing with IOCL to bring in Nagpur's first charging station and Tata Power setting up stations in Mumbai and its suburbs. Thus, slowly and steadily we are witnessing an electric grid being set up for EVs in India.
Risks involved with Electric Vehicles
Well, every technology comes up with its own set of risks and has to be dealt with it is a primary concern for policymakers. Now the chorus revolving around Electric Vehicles is that the bulk of components that need to be imported may render the country defenseless to cyber-attacks and information breaches. Experts fear the backdoor entry is left open when we take equipment from abroad and a trail of information goes back to the supplier. But if we look at a brighter side of the picture, this may encourage local manufacturing of electric equipment. Then there is the risk involving the state of the battery and its connectors. There are occasions where in the connectors may be loose or defective and the total energy of the system somewhat increases which in turn increases the risk of short circuit and explosions.
Electric Vehicles has the potential to change our country's economic pattern where fossil fuel import determines the rate of inflation, which directly impacts our standard of living. As such, an enhanced focus by the automobile majors towards the EV segment could be considered as a step in the right direction.