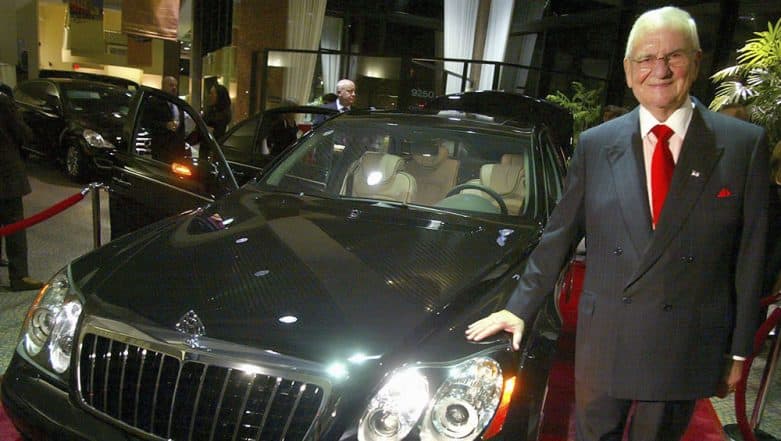 Lido Anthony Iacocca, best known as Lee Iacocca, who is credited for rescuing Chrysler from near-bankruptcy in the 1980s, has died at the age of 94. According to the report from CNN, the auto executive died in Bel Air, California on Tuesday morning. The auto industry legend reportedly died of natural causes, but he was suffering from Parkinson's disease confirmed his daughter Lia Iacocca Assad. Iacocca is survived by two daughters and eight grandchildren. Iacocca was one of the most powerful executives in Detroit. Lee Iacocca, Father of Ford Mustang Who Rescued Chrysler Dies At 94.
Here are the top 5 facts about the automobile industry legend.
1. Lido Anthony Iacocca Aka Lee Iacocca was born on on October 15, 1924 in Allentown, Pennsylvania to Italian immigrant parents.
2. Iacocca was closely associated with at least three iconic vehicles - Ford Mustang, K-Car, and minivans. He is also popularly called as Father of Ford Mustang.
3. Iacocca was fired from Ford Motor after a dispute with company heir Henry Ford II. He later joined then-struggling Chrysler and pulled it out from the financial slump in 1980s with the help of his business skills.
4. Iacocca was very much famous as TV pitchman, where he made the tagline - 'If you can find a better car, buy it.'
5. He also attempted to form an electric vehicle company - EV Global Motors in the year 1999. But he spent most of his time doing charitable work and made efforts to Statue of Liberty and Ellis Island, the immigration port in New York Harbor where his parents came into the United States.