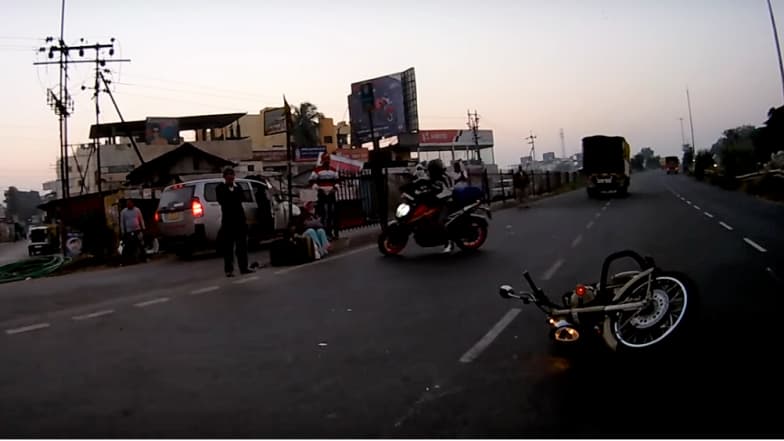 Indian roads are surely unpredictable and no one can deny it. With the number of road accidents happening each day, the roads are becoming more unpredictable day by day. And one such apt example of the same is this footage which was captured by a Royal Enfield rider himself through the action camera. Clearly seen in the video, the Royal Enfield Desert Storm rider is revving the motorcycle at a very high speed (approximately 100 kmph) during the early hours of the day. See More: Royal Enfield Launches New Range of Thunderbird Bikes
Maintaining the speed of around 100 kmph, everything seems normal for the rider until a sudden noise emerges and rider flies off from the motorcycle. The entire episode of the sudden crash is capture on the action camera of the rider. Initially, it is difficult to recognize the real cause of the accident/crash.
However, watching the video in slow motion, a stray dog appears from nowhere and hits the motorcycle resulting the rider to lose his balance, thus resulting into a sudden crash. Because of the poor light conditions, the rider was not able to spot the animal which is evident from the fact that he didn't apply any brakes as the entire episode occurred in a flash of a second. Read More: TVS Apache RR 310 India Prices Increased by Rs 8,000; Price Cut for TVS Wego
After crashing the motorcycle, the rider was quick to get up and took time to figure the real reason for the crash. Thanks to his helmet and safety gear which minimized the effects of the accidents. This video also exhibits the necessity of using proper riding gear and maintaining a proper safe distance from other vehicles by riding or driving.