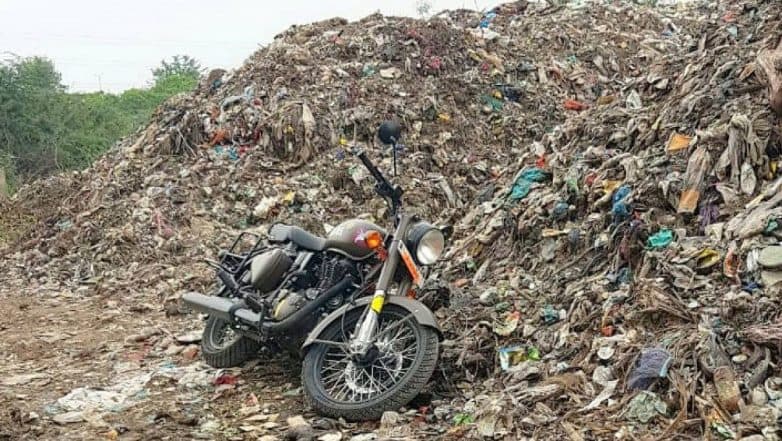 Earlier this week, some pictures of Royal Enfield 500 Pegasus motorcycle was found lying amidst in the garbage dump and soon the images went viral on social media. Following on the same footsteps, another Royal Enfield 500 Pegasus buyer threw his motorcycle in the garage dump. The owner who belongs to Noida, certainly gave hints that the Pegasus buyers are not happy with the company's recent step of launching new Classic range of motorcycles. Royal Enfield Pegasus 500 Worth Rs 2.4 Lakh Thrown in Garbage, Here's Why.
Everything was going well for the Chennai-based two-wheeler manufacturer, the company recorded great numbers, good demand for Pegasus motorcycle. Pegasus 500 motorcycle was launced in August this year, with only 250 units allocated for the domestic market. Marketed as unique, the Pegasus 500 became the most expensive motorcycle ever sold by the company, which was Rs. 2.65 lakh (on-road Kochi).
But, the things changed when Royal Enfield launched Classic Signals 350 ABS, which left the Pegasus owners in shell-shock to see similarities with the latter. To make matters worse, the price of the Classic Signals 350 was launched at Rs 1.62 lakh (ex-showroom) and is fitted with dual channel ABS. However, ABS is not offered on the Pegasus 500. Royal Enfield Interceptor 650, Continental GT 650 Global Launch Next Month - Report.
This has irked the Pegasus customer and they feel they have been cheated by the company. As, the fact the RE dealers contacted customers who missed on purchasing Pegasus and marketed Signal 350 as Pegasus 350 with ABS, reported Rushlane.
Second Royal Enfield Pegasus 500 pays visit to garbage dump - Protest continueshttps://t.co/xYVN5sqH8q

via Dailyhunt

— Rohit Tewari (@6189b451f47f41d) September 6, 2018
It is clear that Pegasus 500 owners are not really happy with Royal Enfield and have decided to discard their bikes in garbage dump. However, it is not clear if the bikes were really dumped or were only positioned for clicking pictures.
Royal Enfield previously replied that, "We understand why you might feel that way, but we want to ensure we would not do anything to undervalue your prized possession. The Pegasus 500cc and Signals range share the same platform but are unique in inspiration and design. Moreover, the Pegasus has a higher displacement."