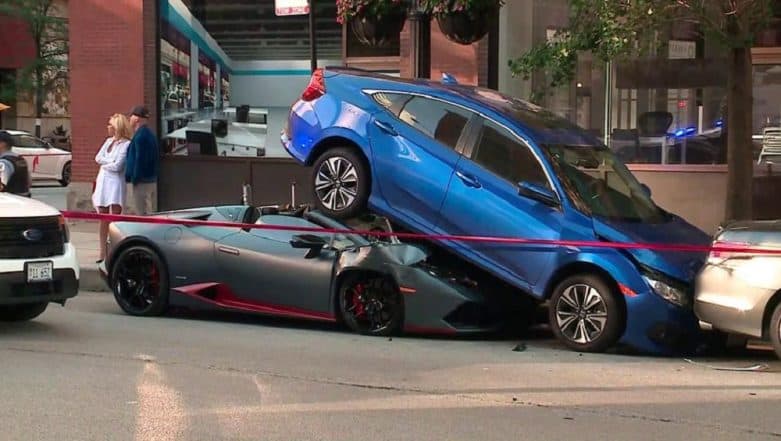 Over the weekend, a bizarre accident took place where a luxurious Lamborghini Huracan Spyder crashed into Honda Civic taking it for a ride. Well, this is not a ride kind-of ride. The pricey sports car wedged underneath the Civic sedan when a couple was on their dinner date in Chicago. Luckily, there were no injuries reported in this accident.
According to the report from CBS Chicago, the Lamborghini Huracan Spyder was hit by another car from the back. Looking to hit the brakes, the driver accidentally hit the gas pedal instead, which hurled the Lambo right into the rear section of Honda Civic that was parked in the West Loop.
Due to the low sloping front-end design of the Huracan, the sports car lifted up the Civic and went underneath it. The aftermath was captured on the photos and started doing rounds on the internet. Two Amarnath Pilgrims From Punjab Killed, 6 Others Injured in Road Accident in J&K's Kulgam district.
The wedged shaped of Lamborghini Huracan certainly proved to be an advantageous in this certain scenario. The sports car went underneath the Honda Civic instead of absorbing the impact which reduced the shock brought to the Lamborghini driver and co-passenger. Moreover, the couple involved in the crash told CBS News that they plan to a new car later that day.
Lamborghini Huracan Spyder comes powered by a 5.2-litre V10 MPI engine that is capable of making 426 kW of max power with peak torque of 540 Nm. The unit is mated to a 7-speed dual clutch gearbox. The sports car is claimed to accelerate from 0 to 100 kmph in just 3.6 seconds before hitting the top speed of 319 kmph. The Huracan Spyder can be brought to standstill position from 100 kmph in just 32.2m