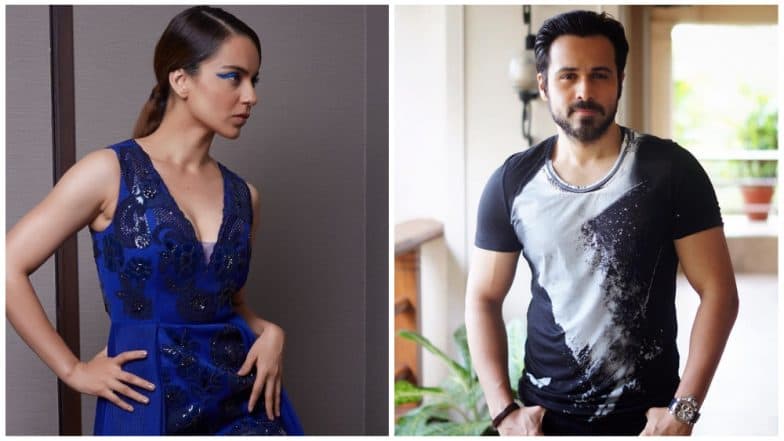 Emraan Hashmi has always been that outspoken guy in the industry. The actor has been several times tagged as the 'serial kisser' of Bollywood but then his growth is evident with the kind of films he is choosing lately. He is also one of those who does not think twice before revealing secrets of B-town at times, just like Kangana Ranaut, you know! In his recent interview, Emraan said that 'people hug you in trials and later on diss you.' The tone is very much closer to Kangana's recent complaint of Bollywood celebs not appreciating her movies, isn't it? Kangana Ranaut Shoots Another Controversial Statement, Says She Will Expose Each One in Bollywood for Ganging Up on Her.
As reported in Hindustan Times, he was speaking about having a handful of honest people around him to give him a reality check from time to time. While elaborating on it, he spilled the beans of his experience at the film trails shows.
"They (my family) are fairly critical of my stuff; I cherish and like that. When they don't like something, they are brutally honest. They don't sugar-coat things and tell me. It's much needed, since you don't get that enough. In film trial shows [people] come and hug you, and say 'what a great job', and might diss you out later on. I should, therefore, have a set of people who are brutally honest," said the Why Cheat India actor.
Well, even though he did not take direct names or complain about anyone as such, he definitely has pointed out a major flaw in the industry. Earlier, his Gangster co-star too had spoken on how Bollywood gangs up and does not support each other's films. Actor, Anupam Kher had lent his support to her statement too. Well, we wonder if this is something to worry as more and more stars speaking on the issue subtly.