Dear Women, if you have something to share about sexual offenders who have scarred you mentally and emotionally, now is the time to talk about them! For the #MeToo movement, a social campaign to give voice to those who have been victims of sexual harassment, is finally getting a stronghold in India. Through social media, many women have found a voice to name their perpetrators and celebs like Vikas Bahl, Chetan Bhagat, comedian Utsav Chakraborty, AIB members, Rajat Kapoor have to face the heat. Tanmay Bhat-Gursimran Khamba Step Away From AIB Post Social Media Backlash on Utsav Chakraborty Controversy.
As women are sharing their #MeToo moments on Twitter and Facebook, an old video of actress Tisca Chopra is going viral. The video that came out a couple of years back has her talk about a shoot in a foreign location, where the director of the film had slyly approached her with sexual intentions. Talking about the incident in an episode of The StoryTellers, she referred to the director as a 'Reptile Director' and had spoken about how he had asked her to have dinner with him in his room. However, she smartly wiggled her way out of the situation after meeting him in the room where he was wearing a satin lungi waiting for her! #MeToo Storm Hits Indian Media, Hindustan Times Journalist Prashant Jha First to Resign!
She also talked about the married hero of the film who was less interested in her, and more in the makeup assistant, who was doing her best to avoid him!
Watch the video here -
Now, who is Tisca talking about? She gives some very interesting clues. The Taare Zameen Par actress revealed that the movie was being made in the '90s. The person she was talking about was a big producer-director. Tisca also mentions that the director's son was also an AD on the sets. #MeToo in India: Comedian Jeeveshu Ahluwalia Accused of Date-Rape - Read SHOCKING Deets.
Well, many on Twitter and even in the comments of the above YouTube video are saying that she was referring to the film Karobaar: The Business of Love and its director Rakesh Roshan. Although the film came out in 2000, it was shot in the '90s and was delayed for long before the film managed to get a release date. As for the actor, who had an eye on the makeup artist, is it Anil Kapoor? This YouTube comment has a lot to say about this -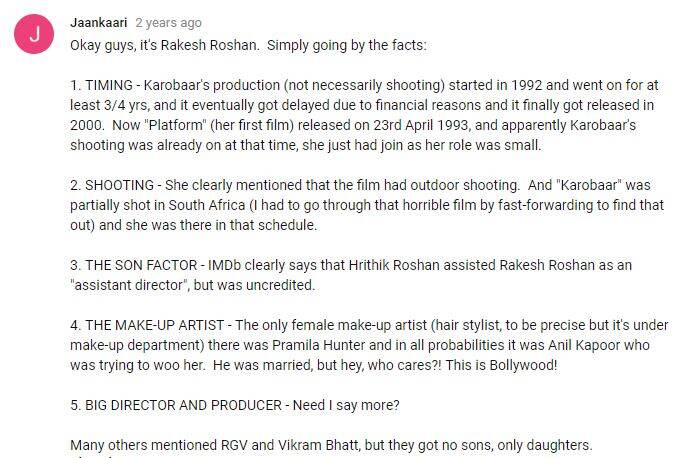 And so are some of the Twitter comments -
Genuine question Ankur... Since you cover these topics and do investigative journalism, why not cover this Kommune video where Tisca Chopra makes allegations against Anil Kapoor and Rakesh Roshan. Kindly don't tell me that you have never watched it before. https://t.co/Ce3Corab4k

— Sceptico (@RandomBongVibe) October 6, 2018
that big star's dad is an alleged predator himself aka tisca chopra wd concur

— rahul tiwari (@rahraakash85) October 6, 2018
Dear @sonamakapoor, have you seen this? She might be talking about someone you know https://t.co/3MYVi6DdA8

— iMac_too (@iMac_too) October 6, 2018
If Tisca was really talking about Rakesh Roshan and Anil Kapoor, it would be some serious case of irony. Rakesh's son Hrithik has recently spoken strongly about his Super 30 director Vikas Bahl, while Sonam Kapoor has been one of the most vocal supporters of the #MeToo movement in India!