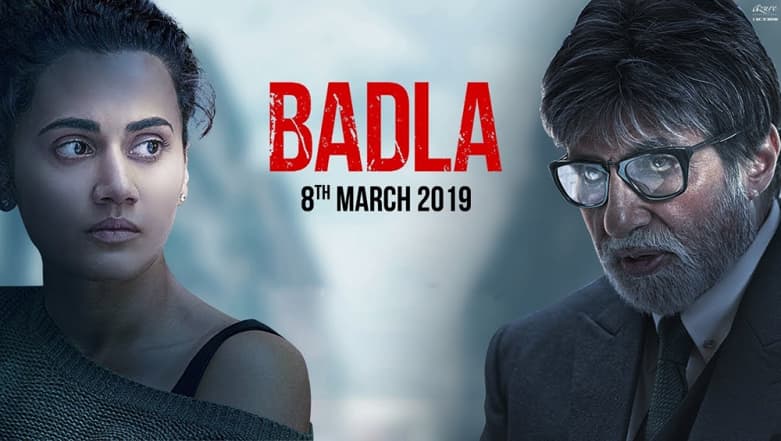 In the mood for thrillers? Then you should not miss out on this week's release, Badla. The movie is directed by Sujoy Ghosh, known for giving us one of Bollywood's best thrillers in Kahaani. Amitabh Bachchan and Taapsee Pannu are playing the lead in the film, with Amrita Singh, Manav Kaul and Tony Luke. Shah Rukh Khan's production house, Red Chillies Entertainment, is involved in the making of the film. Badla: 5 Spanish Thrillers That We Want to See Being Remade in Bollywood After Amitabh Bachchan and Taapsee Pannu's Film.
Before Badla, Amitabh Bachchan and Taapsee Pannu had earlier worked together in PINK, that came out in 2019. The legal drama dealt with themes of sexual assault and had Amitabh Bachchan play a lawyer defending three girls from allegations of attempted murder, with one of the girls being played by Taapsee. In Badla, once again Amitabh Bachchan played the legal counsel to Taapsee's character, who is now accused of murder. Badla Producer Shah Rukh Khan Has a Special Dialogue for Taapsee Pannu, Guess She Is Not Very Fond of It.
Want to know more about the film? Then we have some very important details about Badla for you!
Cast
As mentioned before, Amitabh Bachchan and Taapsee Pannu are playing the main leads. The movie also stars Amrita Singh, Manav Kaul and Tony Luke.
Story
Badla is based on the Spanish film, The Invisible Guest, that is directed by Oriol Paulo. Taapsee Pannu's character, a married woman, is accused of killing her lover in a hotel. She tells her new lawyer, played by Amitabh Bachchan, that someone else was present in the room who attacked her and then killed her lover. The lawyer tries to figure out whether she is really telling the truth, as more and more skeletons stumble out of the closet.
Trailer
Here's the trailer of Badla:
Budget
Badla is reportedly made a budget of Rs 30 crore, though there is no official confirmation on this.
Box Office Prediction
According to trade pundits, the film will do well once the positive word of mouth comes into play. Unlike Total Dhamaal, Badla doesn't have a very wide audience target. It's a multiplex movie that will attract the urban, young audience who are akin to watching well-made thrillers. So expecting a big opening wouldn't be fair. Reportedly, trade experts have said that Badla will rake in between Rs 3-4 crore on its first day.
Movie Review
Watch this space for the complete review of the film, Badla. It will be updated soon enough.