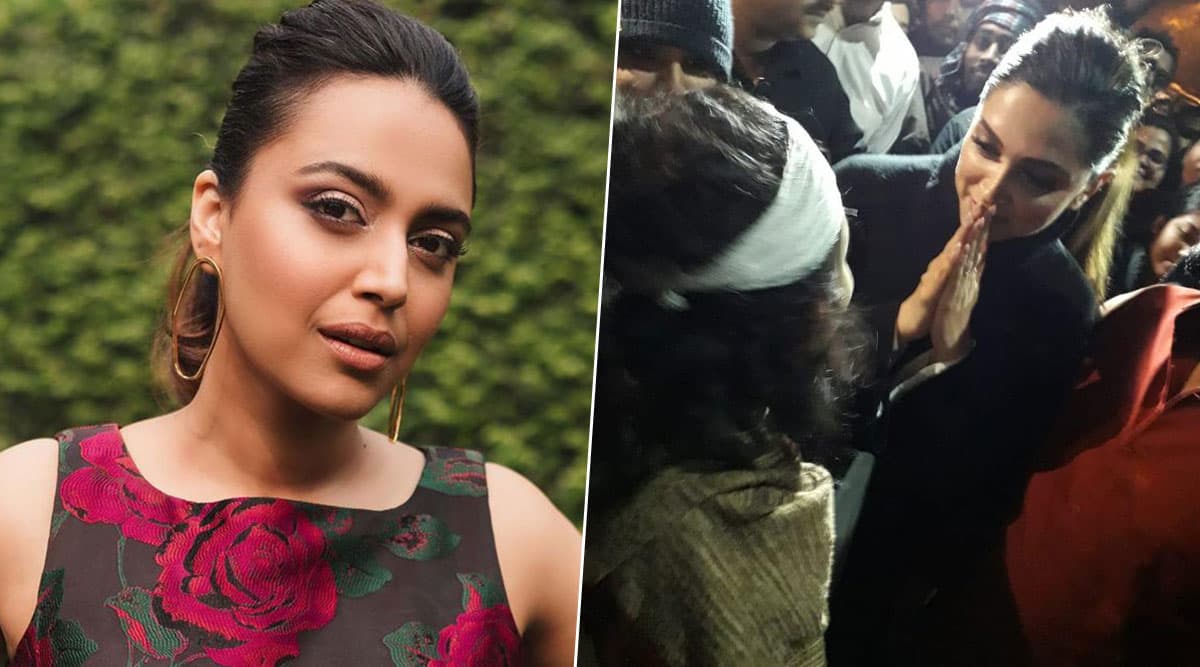 Bollywood actress, Deepika Padukone, who is in Delhi to promote her upcoming film Chhapaak was clicked at the protests at JNU. With an aim to show solidarity with the students and teachers, DP's this act is a brave step indeed. And not just us, but even Twitterati are lauding her for showing up for something which matters. Earlier in an interview when the actress was asked about the ongoing mayhem she said that it's great to see so many people come out and unite for a cause. In one of the pictures which surfaced online, she was seen alongside injured JNUSU president Aishe Ghosh. Deepika Padukone Visits JNU to Express Solidarity With the Students, Stands Beside Injured JNUSU President Aishe Ghosh and Former Student Leader Kanhaiya Kumar (View Pics).
Well, a big step taken by a biggie in the industry led to some fruitful reactions too. And in no time, the micro-blogging site showered praises on the actress for showing up and giving a hint that she is against the current political scenario in the nation. For the unversed, masked goons had entered the JNU campus and attacked the students and faculty members. Coming back to Deepika, here are a few Twitter reactions where she is lauded for her bravery. Deepika Padukone's JNU Visit: BJP Leader Tajinder Singh Bagga Calls For Boycott of Chhapaak Actress' Films for Allegedly Supporting 'Tukde Tukde Gang'.
Swara Bhasker:
Good on you @deepikapadukone 🙌🏾🙌🏾🙌🏾🙌🏾🙏🏿🙏🏿🙏🏿🇮🇳🇮🇳🇮🇳🇮🇳

— Swara Bhasker (@ReallySwara) January 7, 2020
Barkha Dutt:
Kudos @deepikapadukone for showing spine and compassion and showing up in solidarity with JNU students who are victims of violence and mob attacks. pic.twitter.com/HRxDK0qHQ3

— barkha dutt (@BDUTT) January 7, 2020
Rajdeep Sardesai:
Well done @deepikapadukone . When a top film star takes a stand on contentious issues like JNU, you have to say, 'may your tribe increase!'.. don't also miss @anuragkashyap72 at 9.30 Pm tonight.. @IndiaToday

— Rajdeep Sardesai (@sardesairajdeep) January 7, 2020
She Has Spine!
We love you Super-Mega Star 🖤 @deepikapadukone.

'Spine is not for sale'#Deepika

— Binil Pothen Babu (@binilpothen) January 7, 2020
Women Empowerment:
Its the women again who are showing the spine. I am fan forever Deepika. More power to you! pic.twitter.com/SzX1wGZzon

— Anila Velidimalla (@simplyanila) January 7, 2020
Anubhav Sinha:
I have been saying so. Women are stronger beings.

RESPECT @deepikapadukone

— Anubhav Sinha (@anubhavsinha) January 7, 2020
Faye DSouza:
Respect for @deepikapadukone . https://t.co/nRaqWcV7Sc

— Faye DSouza (@fayedsouza) January 7, 2020
Rohini Singh:
All those making snide remarks on @deepikapadukone's visit to JNU as a movie promotion exercise, well, she could have chosen SRCC, Amity or Nirma University if it was only to promote a film. The fact that she CHOSE to visit JNU is a brave choice given the times we live in.

— Rohini Singh (@rohini_sgh) January 7, 2020
At the time when the violent incident took place, several Bollywood personalities came together in Mumbai for a protest against JNU violence. Indeed, now we can say that Bollywood does have a spine. Stay tuned!